To ensure years of safe enjoyment, Chair-Pak provides the following guidelines for use of our product:
Single person usage at a time
Do not use on slick or unstable surfaces
Chair-Pak is to be used in a safe and sane manner
Do not adjust sitting level while sitting on Chair-Pak
Do not stand on Chair-Pak
Never use Chair-Pak without all components in place
Maximum weight limit is 230 pounds
Chair-Pak Company or Affiliates are NOT responsible for injury or misuse
Failure to follow guidelines may result in serious injury.
Chair-Pak - Easy To Use
Backpack to Chair
While holding top handle loop, pull shoulder straps back.
Lift up on the elastic band & let gravity drop the legs, place on stable surface.
Chair to Backpack
Pick up by top loop handle, lift up/forward on back leg, secure with elastic band.
Pull shoulder straps back and place on your back.
Chair-Pak - Easy To Adjust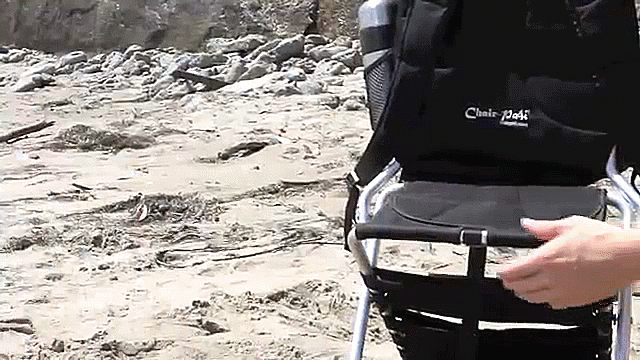 Adjusting Seat Height
Hold hanging seat strap & push in CAM buckle button under the seat.
Pull strap forward to increase seat height or let strap out to lower seat height.
Relax and Enjoy!