Different by Design
Simple
Chair Pak's multi-patented two systems in one design combines the convenience of a backpack with the comfort of a regular height chair giving users the freedom to easily relax anywhere they go.
Novel
Offering a full size backpack with roomy zipper compartments, soft cooler and designed to let gravity roll the chair out for you makes Chair-Pak the right fit for any outdoor enthusiast on the go.
Rugged
Chair-Pak is constructed of the highest quality materials providing exceptional strength and capacity. It's incredibly light and strong weighing only 7LBS but built to support up to 230LBS.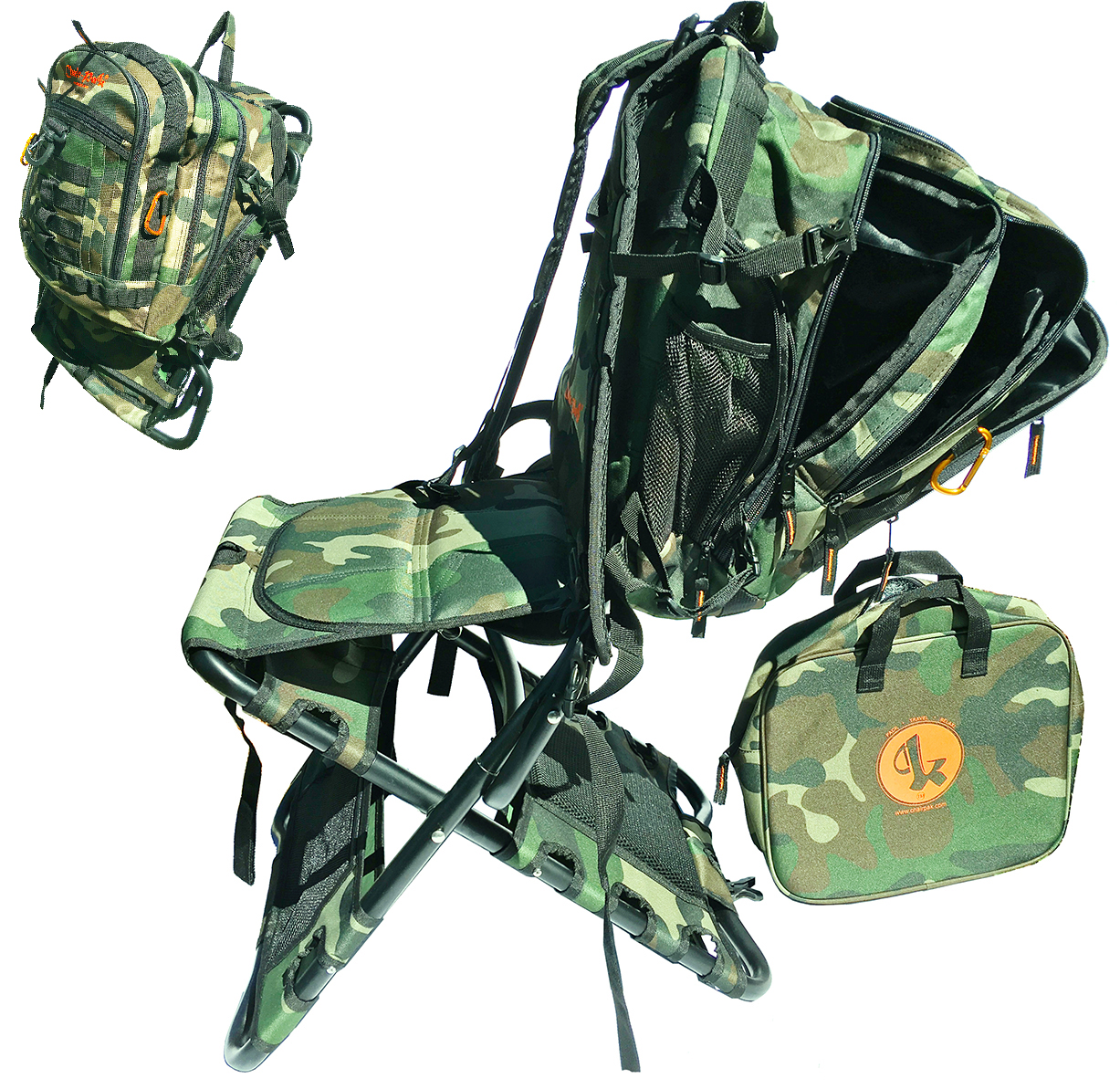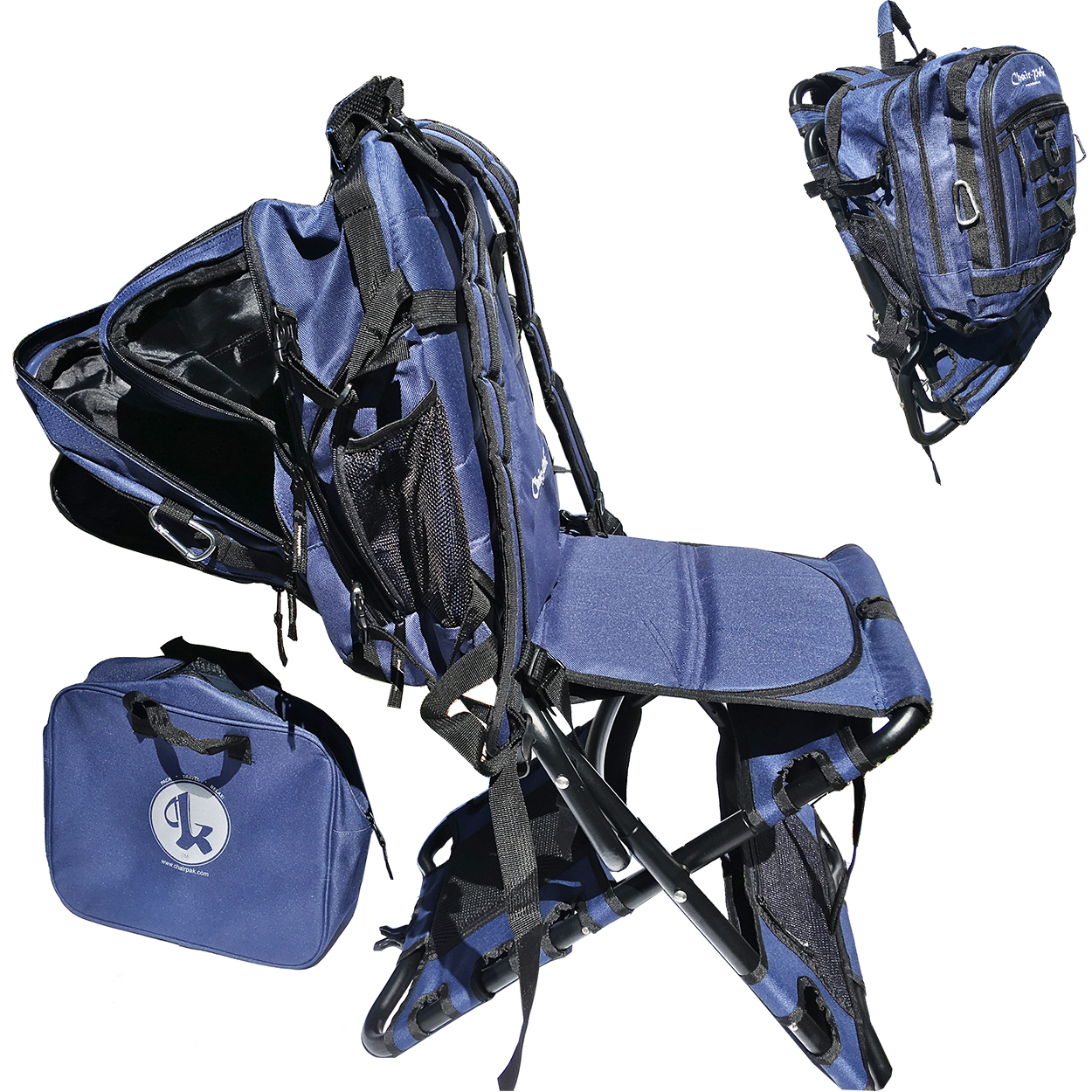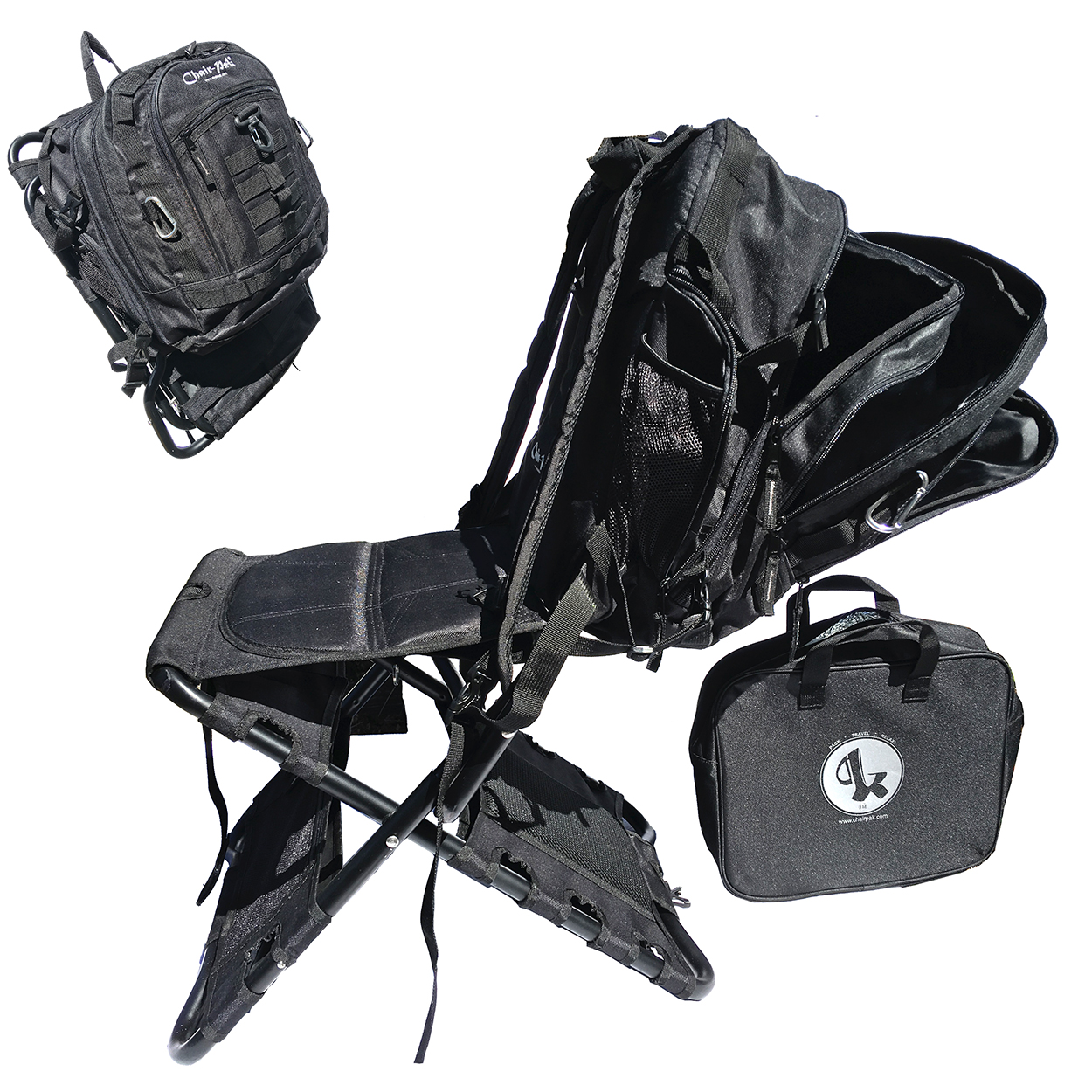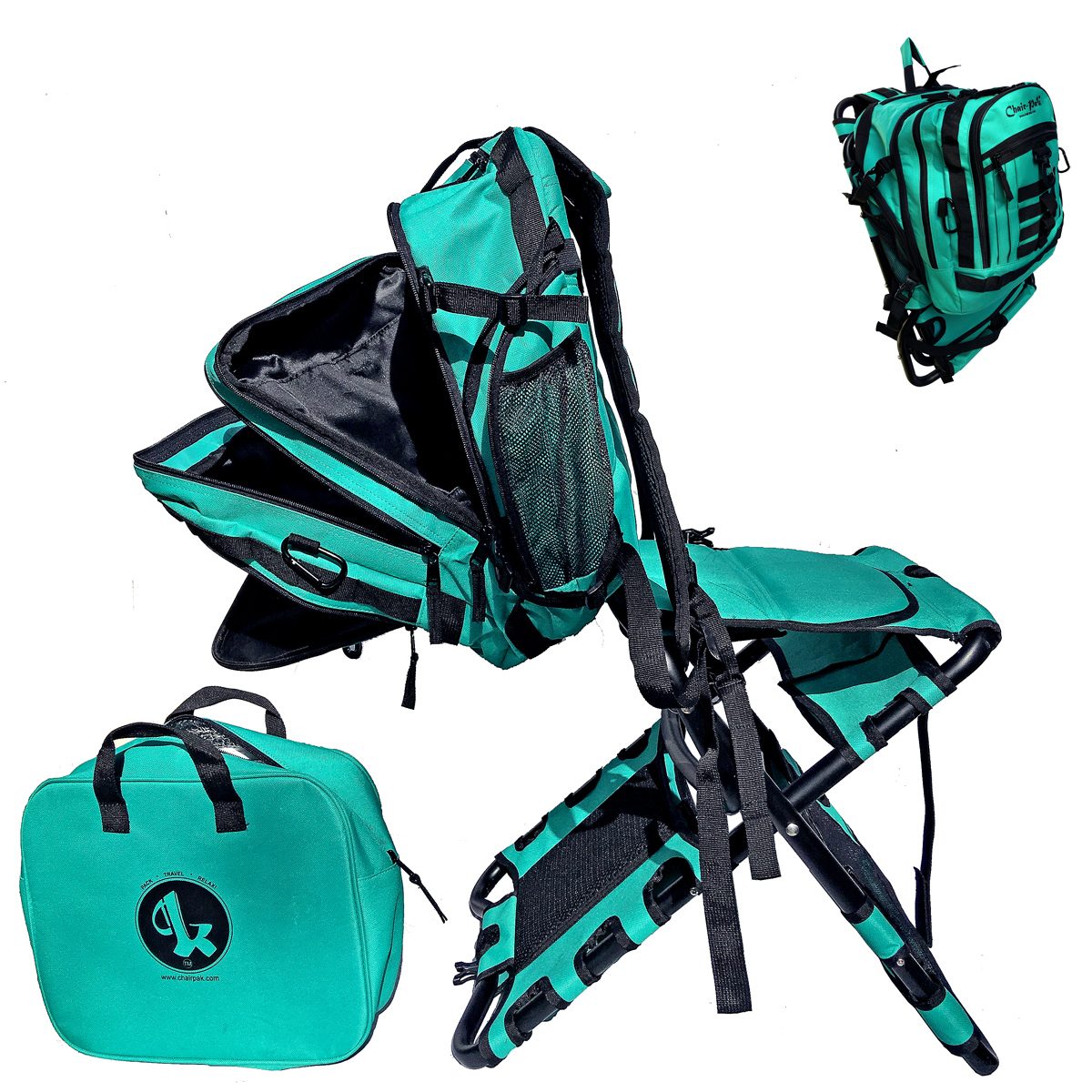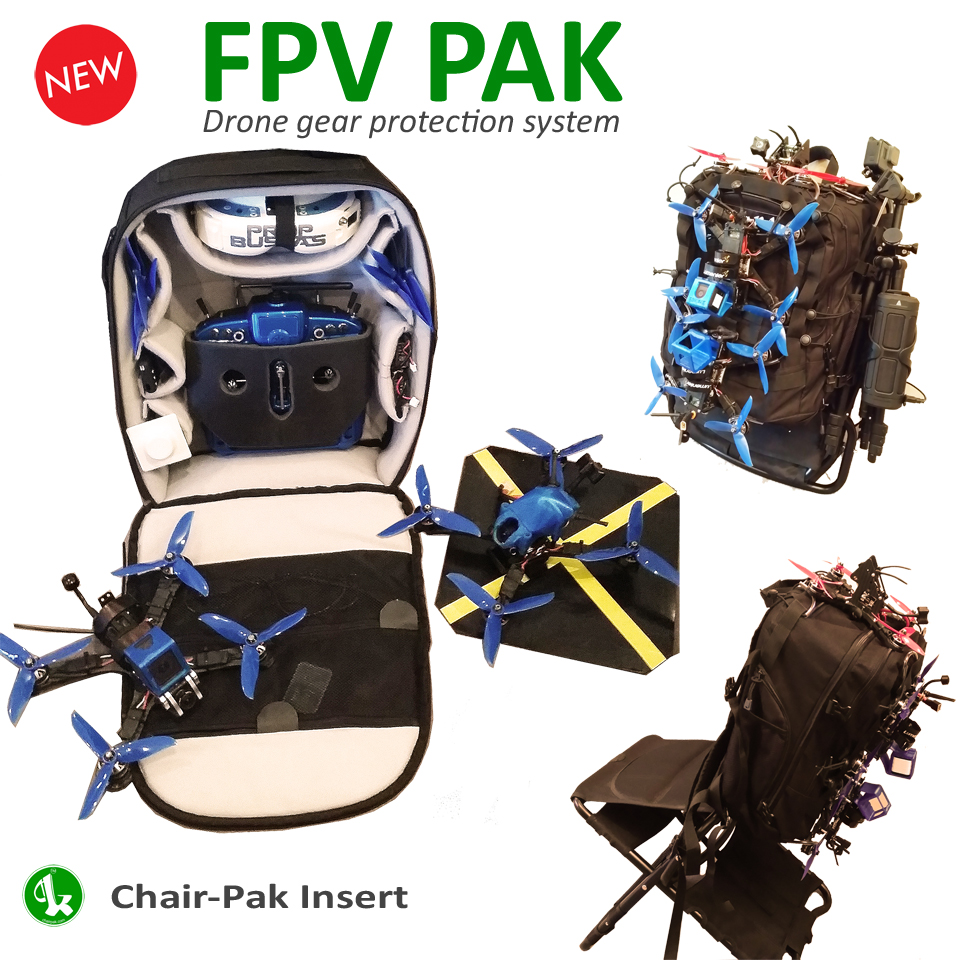 Chair-Pak
The World's Best Backpack/Camping Chair
Chair-Pak is essential gear for the outdoor enthusiast. Designed to help you get into the field and stay out in the field in comfort. Combining the convenience of a full sized multi-compartment backpack with the comfort of a integrated lightweight chair, you will never leave home without it. Featuring four zipper compartments, padded shoulder straps, adjustable/removable sternum cross strap, carabiners, side cinch straps, water bottle holders  & pockets, and removable soft cooler . Constructed of top quality, water resistant canvas featuring high grade, lightweight strong aircraft aluminum.
Chair-Pak is the perfect size & weight for superior mobility and comfort, about the size of your back and height of a regular chair. No other backpack chair on the market comes close, check out what our customers are saying. Any questions click our chat bubble below, thank you for your interest.
Chair-Pak is your flagship outdoor gear. We Ship Worldwide!
22L"x17W"-Pack

13W"x17H"-Chair
Lightweight Aircraft

Aluminum Frame

Multiple

Attachment Points
Chair-Pak Overview
FPV
Hiking
Fishing
Hunting
At The Beach
3 large main compartments with internal storage pockets and large back pocket
Two side water bottle holders
Carabiners & loops provide ability to bungee articles and gear
Zipper leg pocket for additional item storage
Long lasting thermal soft cooler
Side cinch straps to attach longer items like an umbrella or fishing pole
Water resistant canvas materials
Adjustable, removable sternum cross strap
All Purpose Camo

Midnight Blue

Granite Black

Timeless Teal

FPV Pak Add-on
30 Day Money Back Guarantee
What our customers are saying ...
I received my Chair Pak today and I love it! I can't wait to use it at the concert. It's the perfect size and I love that it's adjustable. Awesome job and I will definitely be promoting it to my friends. It will also be a permanent fix in my van for trips to the…
I purchased 2 Chair-Paks for my wife and I to go deer hunting in Michigan. We were able to bring enough gear in the packs to go back in a swampy area, having to build a make shift log bridge to cross a stream. The fabric held up very well against the thick brush.

We like the low profile of…
WOW! This has got to be the most convenient backpack chair for fishing ever! I do alot of stop and go on the lake that I fish at. This product is perfect for it! I just drop the chair, fish a little and then move on. The backpack portion was not big enough to fit my large tackle box..so…
Pier Fishing at Vilano Beach Florida. I had originally planned on fishing the surf but was too ruff and decided on the pier. Fishing was slow but the Chair-Pak worked great. Held all my equipment. The chair was smaller than I expected but was comfortable with a lot of support. Look forward to trying on the sand.
Chair-Pak fits my needs perfectly. Order arrived earlier than expected. As the other reviewer stated, there is plenty of room. I purchased this specifically for fishing. At some fishing holes here in southern cali, sometimes you need to rush your gear to get the good spot. This saves me from having to carry a chair and cooler. One trip…