Distinctive by Design
Simple
Chair Pak's multi-patented two systems in one design combines the convenience of a backpack with the comfort of a regular height chair giving users the freedom to easily relax anywhere they go.
Novel
Offering a full size backpack with roomy zipper compartments, soft cooler and designed to let gravity roll the chair out for you makes Chair-Pak the right fit for any outdoor enthusiast on the go.
Rugged
Chair-Pak is constructed of the highest quality materials providing exceptional strength and capacity. It's incredibly light and strong weighing only 7LBS but built to support up to 220LBS.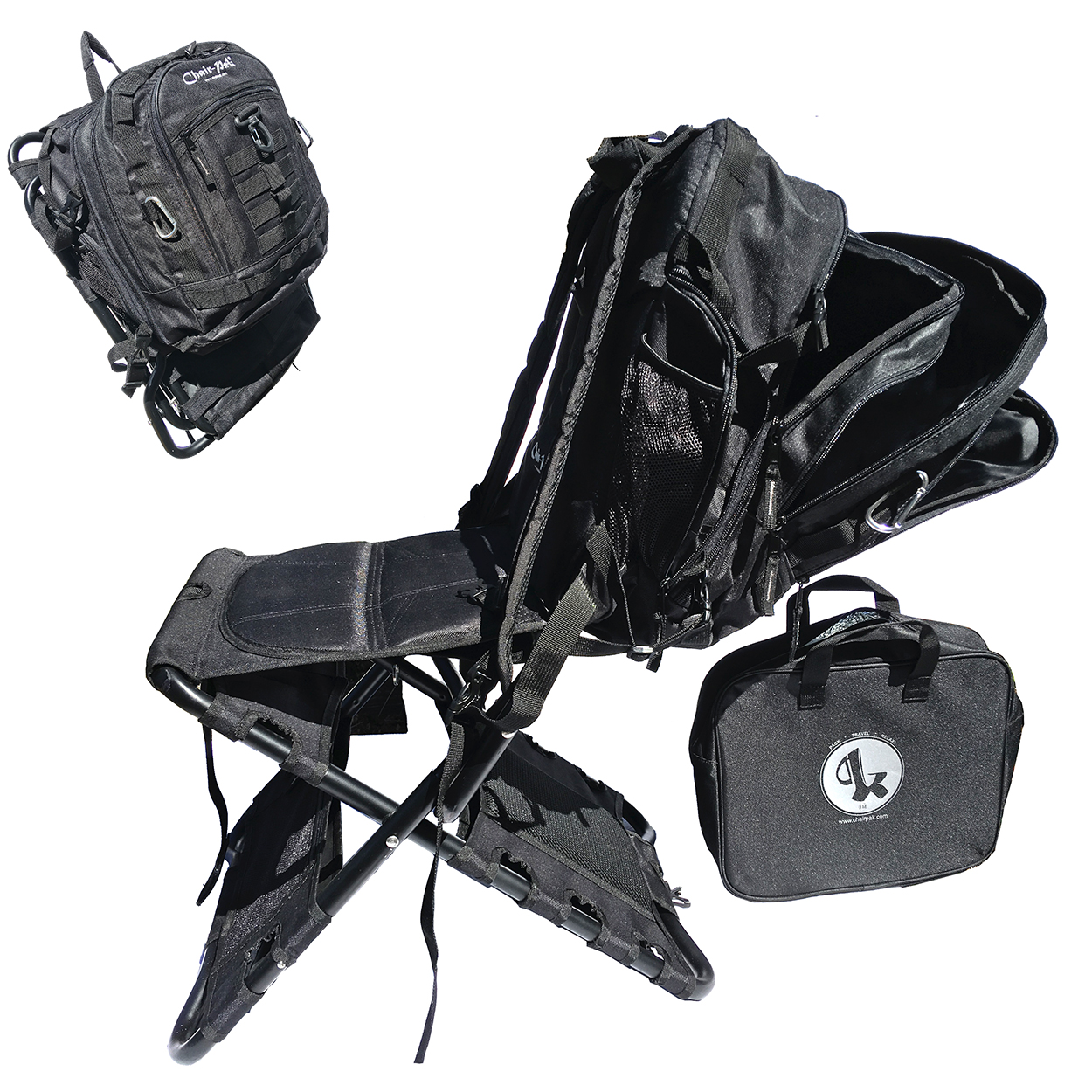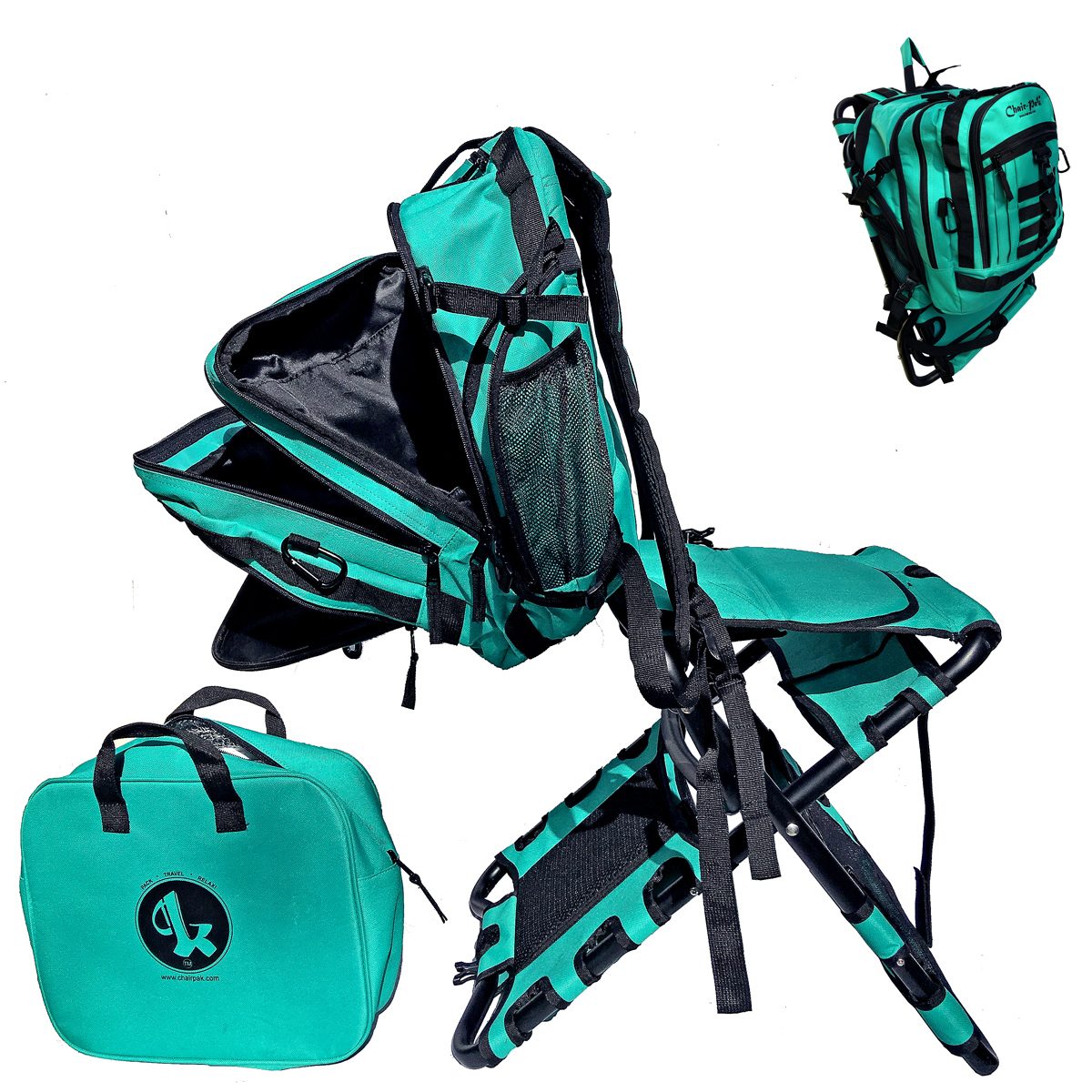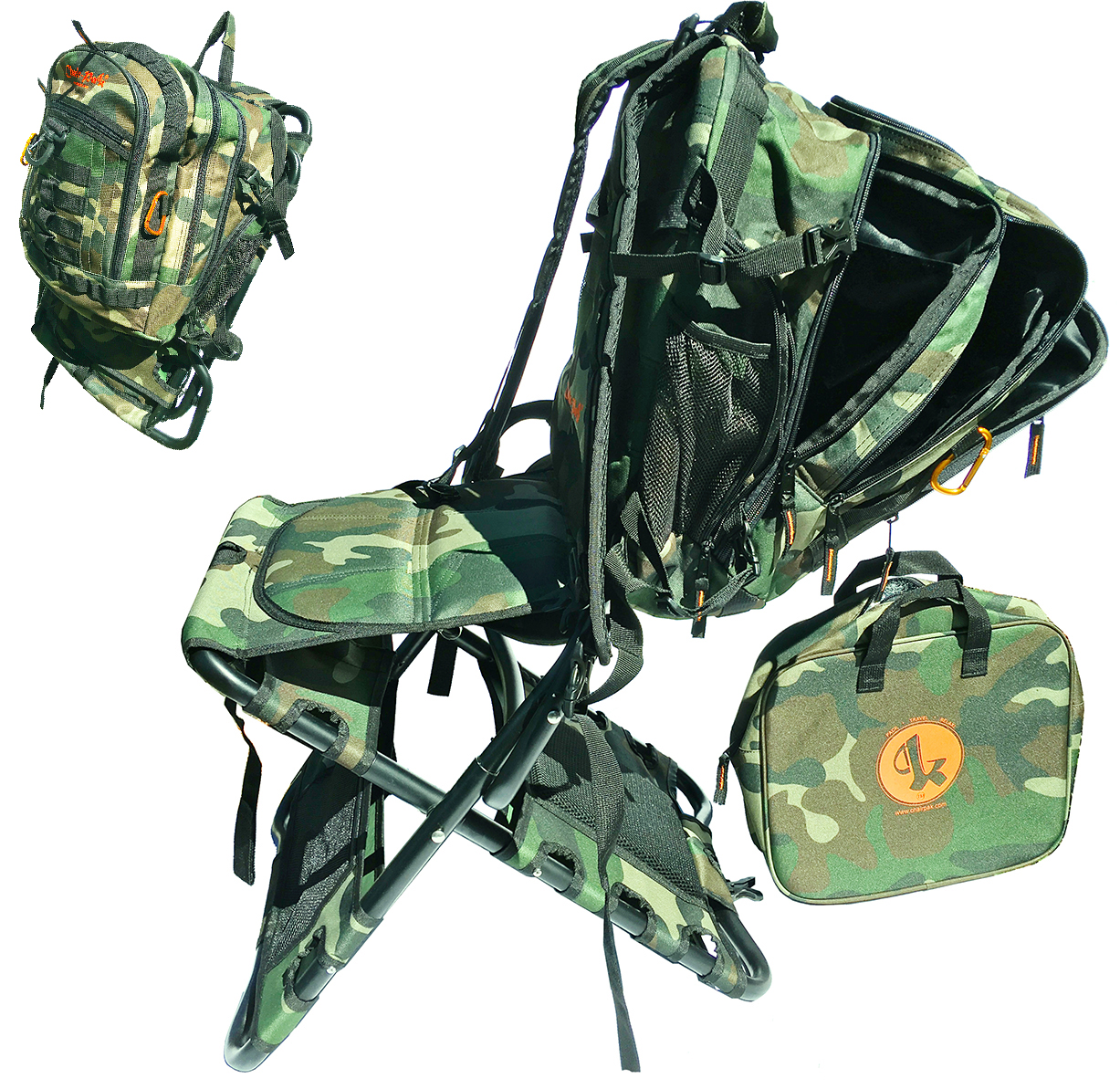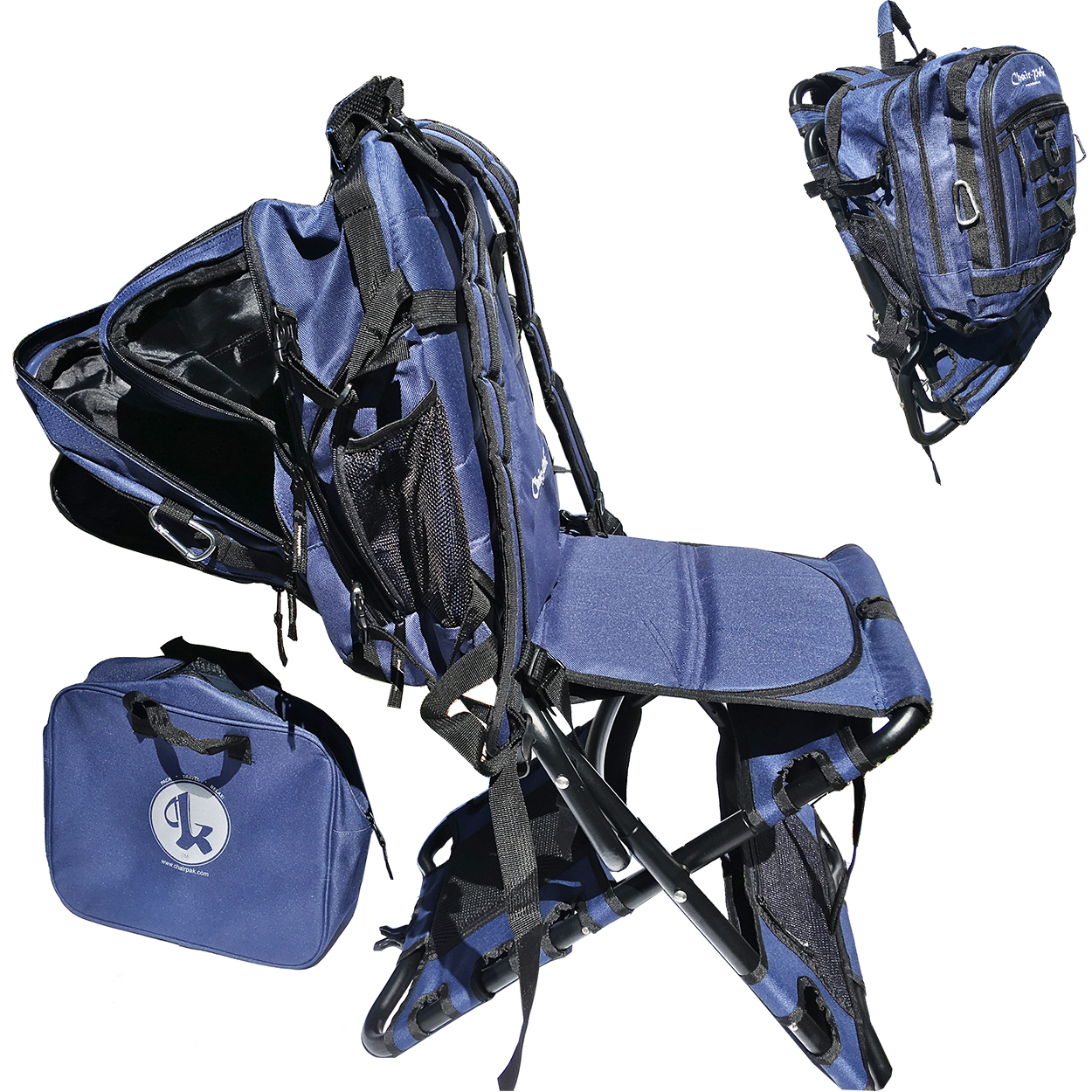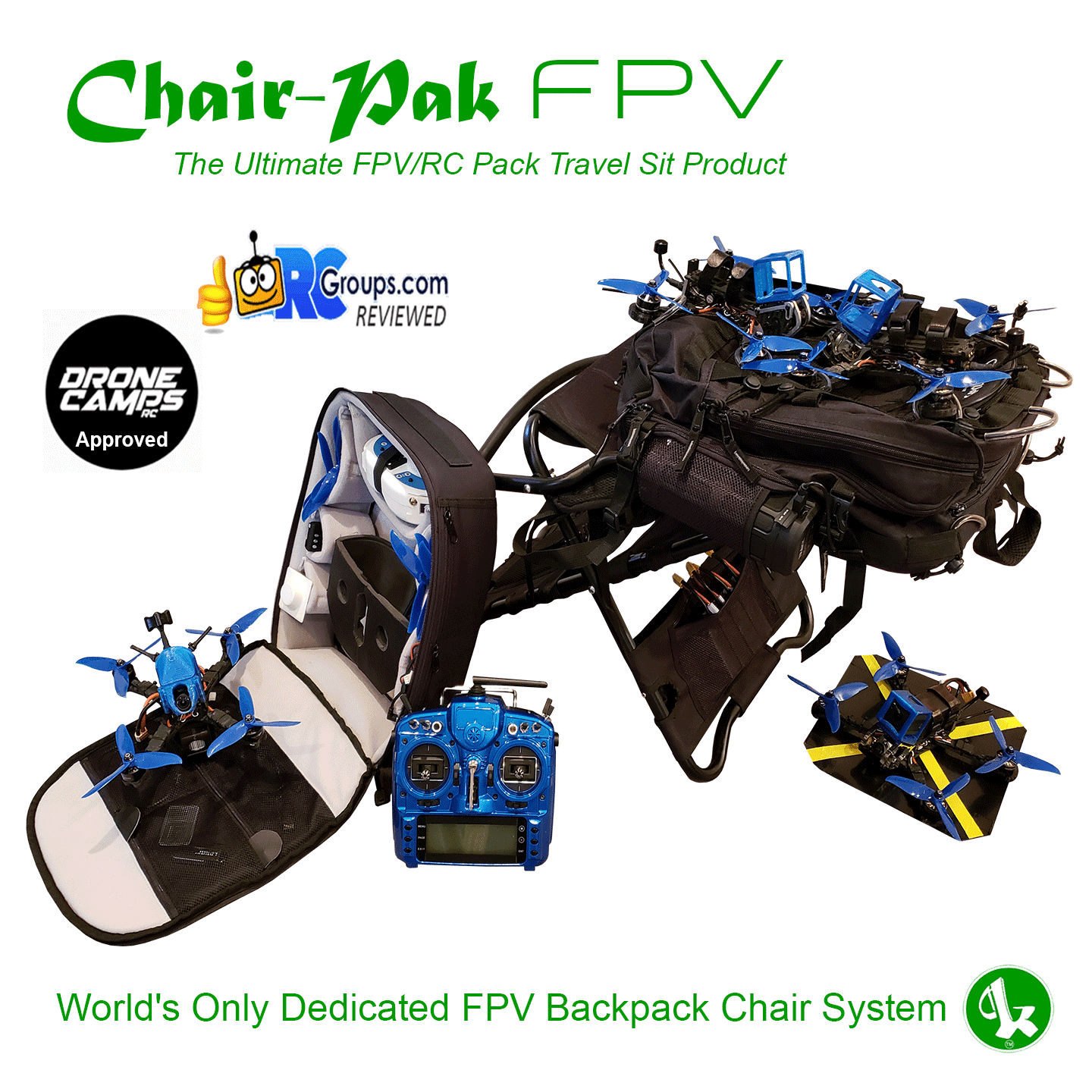 Chair-Pak
The World's Best Backpack/Camping Chair
Chair-Pak goes way beyond the competition by integrating a fully loaded, feature rich backpack & comfortable lightweight chair. It is designed to be the perfect size & weight for mobility and comfort, about the size of your back and height of a regular chair. No other backpack chair on the market comes close, see our testimonials & search the web, you will be completely satisfied.
Chair-Pak is essential gear for the outdoor enthusiast. Designed to help you get into the field and stay out in the field in comfort. Combining the convenience of a full sized multi-compartment backpack with the comfort of a integrated lightweight chair, you will never leave home without it. Featuring four zipper compartments, padded shoulder straps, adjustable/removable sternum cross strap, carabiners, side cinch straps, water bottle holders  & pockets, and removable soft cooler . Constructed of top quality, water resistant canvas featuring high grade, lightweight strong aircraft aluminum.
Note: For those who fly Chair-Pak easily goes through security, fits into typical airline overhead bins or inside large suit cases.
Chair-Pak is your flagship outdoor gear. We Ship Worldwide!
22L"x17W"-Pack

13W"x17H"-Chair
Lightweight Aircraft

Aluminum Frame

Multiple

Attachment Points
Chair-Pak Overview
Hiking
Fishing
Hunting
At The Beach
FPV Pak Insert
3 large main compartments with internal storage pockets and large back pocket
Two side water bottle holders
Carabiners & loops provide ability to bungee articles and gear
Zipper leg pocket for additional item storage
Long lasting thermal soft cooler
Side cinch straps to attach longer items like an umbrella or fishing pole
Water resistant canvas materials
Adjustable, removable sternum cross strap
Granite Black

Timeless Teal

All Purpose Camo

Midnight Blue

Chair-Pak FPV
30 Day Money Back Guarantee
What our customers are saying ...
I received my Chair Pak today and I love it! I can't wait to use it at the concert. It's the perfect size and I love that it's adjustable. Awesome job and I will definitely be promoting it to my friends. It will also be a permanent fix in my van for trips to the…
I bought my first Chair-Pak almost ten years ago. I have used it so much that I needed to make major repairs to it. About a year ago I emailed you about buying a new one. When I received your email last month notifying me that the new ones were ready, I immediately placed an order for a…
I just wanted to let you know I Love my Chair-Pak. I could sell at least 20 here and postage wasn't so big to get it to Austrailia. Envy of everyone, I use it for Netball carnivals as I am a coach of representative teams, I have balls to carry and a bag and a chair. Chair-Pak allows me…
This small but perfectly sized, lite weight, and versatile chair from Chair-pak is a keeper. It quickly folds and unfolds in a snap and doubles as a backpack. The customer service at Chair-pak is excellent. They will respond quickly with any questions or concerns. Was happy to make the purchase.
Pier Fishing at Vilano Beach Florida. I had originally planned on fishing the surf but was too ruff and decided on the pier. Fishing was slow but the Chair-Pak worked great. Held all my equipment. The chair was smaller than I expected but was comfortable with a lot of support. Look forward to trying on the sand.