FPV Pak – Chair-Pak Drone Gear Protection System
Pack
Now you can easily pack, protect and repair your drone gear wherever you are in the field. Chair-Pak's FPV Pak insert is a carefully thought out felt/velcro divider system which slips perfectly into Chair-Pak's main compartment for travel to your next event.
Travel
FPV Pak offers a water resistant semi-rigid shell with soft inner dividers allowing any configuration for hugging goggles, batteries, antennas and any other gear. Ridged formable support walls surround your drone or radio to keep them from getting crushed.
Sit
The system includes a foam radio mask, waterproof backpack cover, drone attach bungees, launch pad/work table and magnet strip to stick hardware to. All which integrates perfectly with your Chair-Pak. Once in the field, just roll out the chair, setup & FLY!
I have had the pleasure of being able to use Chair-Pak/FPV-Pak for the past year. I must say it has made getting out to the field to fly and race alot easier. It is so nice to be able to carry everything which includes all my gear and chair in one simple easy to use backpack. This creates a hands free approach to getting wherever your adventure takes you much easier and more comfortably than having to lug around multiple bags of gear and a chair. The FPV-Pak insert works well and allows plenty of room to store all your gear for the day and I can easily carry 3 drones strapped to the outside of Chair-Pak. The durability is great and I have not had a single issue since I began using Chair-Pak/FPV-Pak. If you're an FPV pilot and want a hands free approach to carrying your gear then this is it.
Brian Decheubel (Tilted Monkey FPV)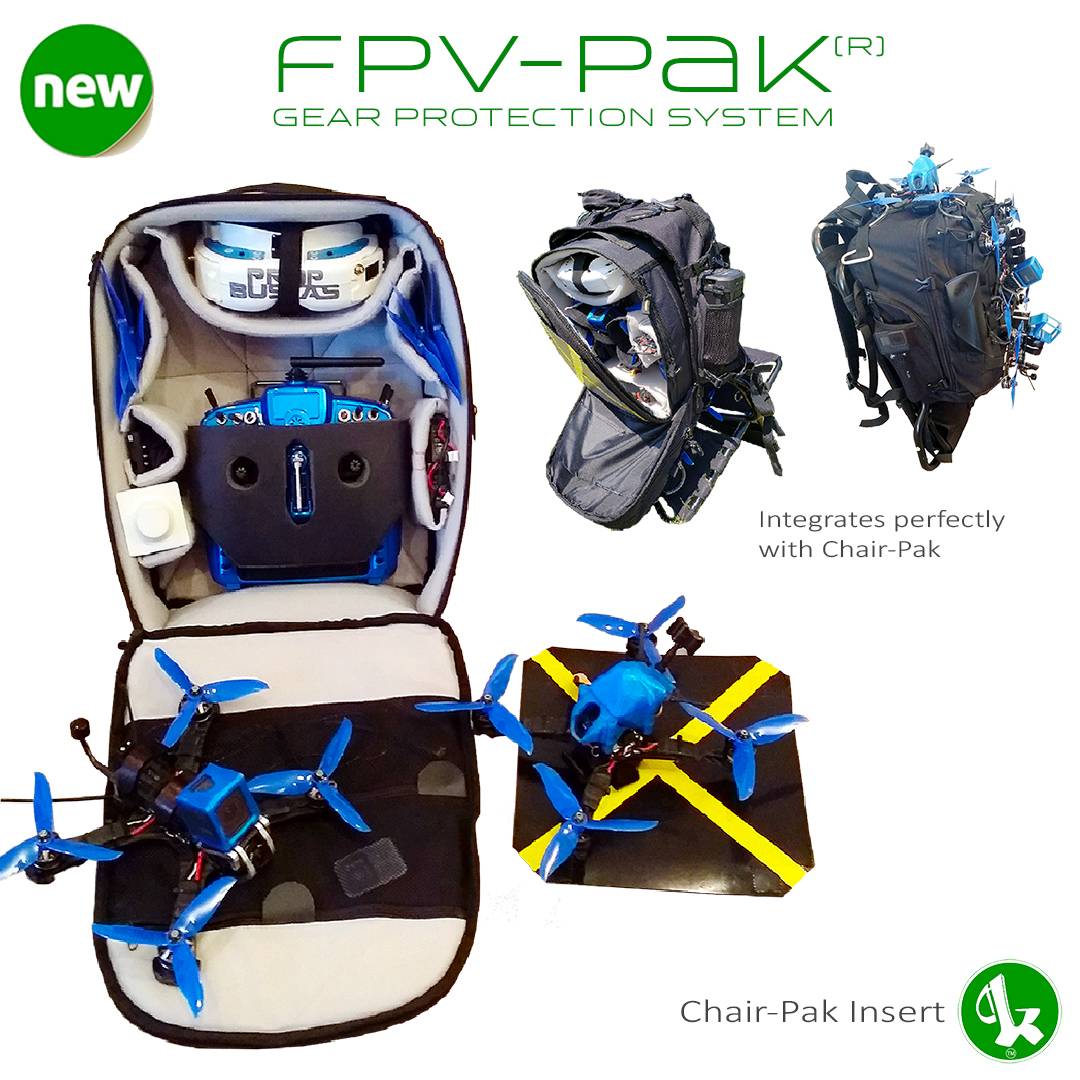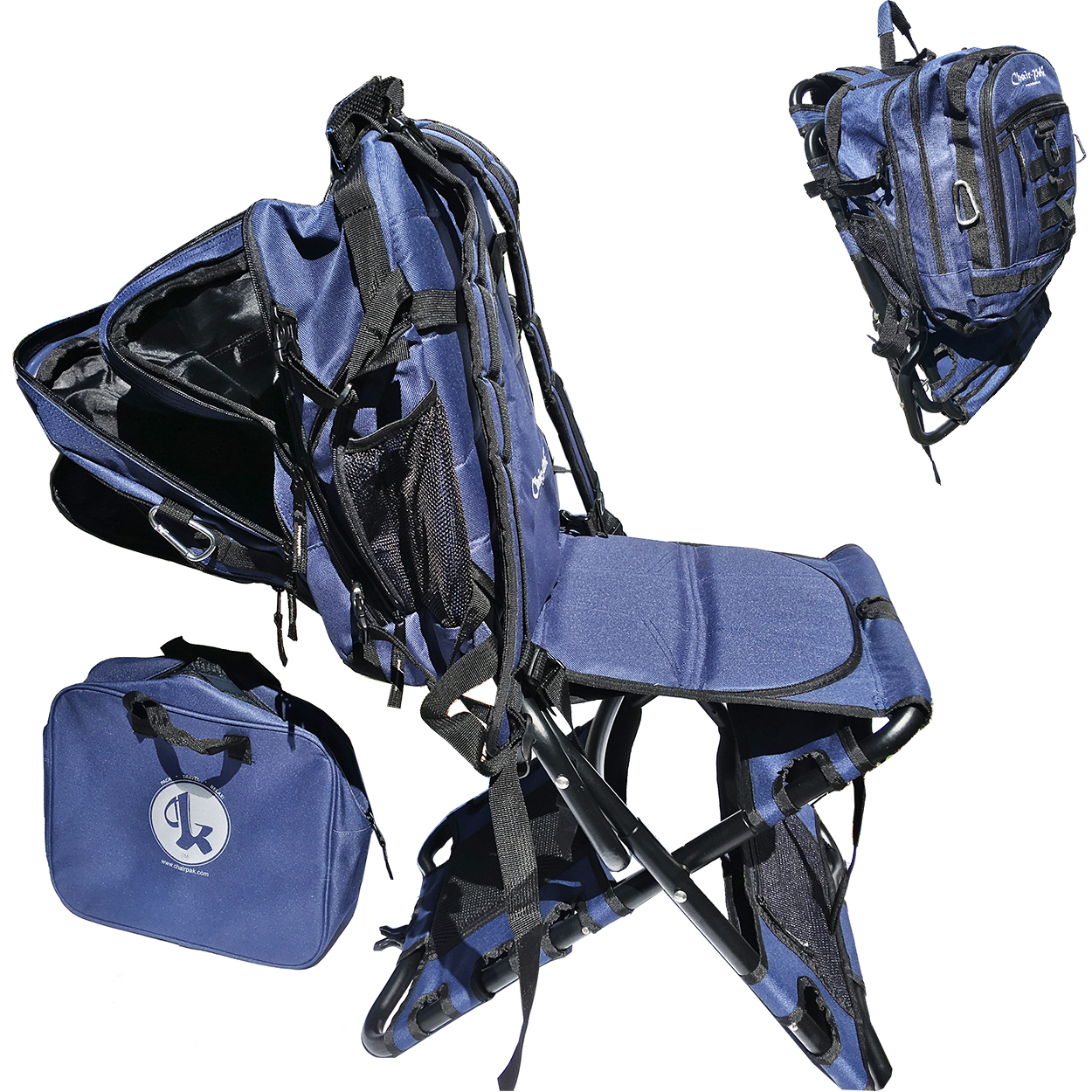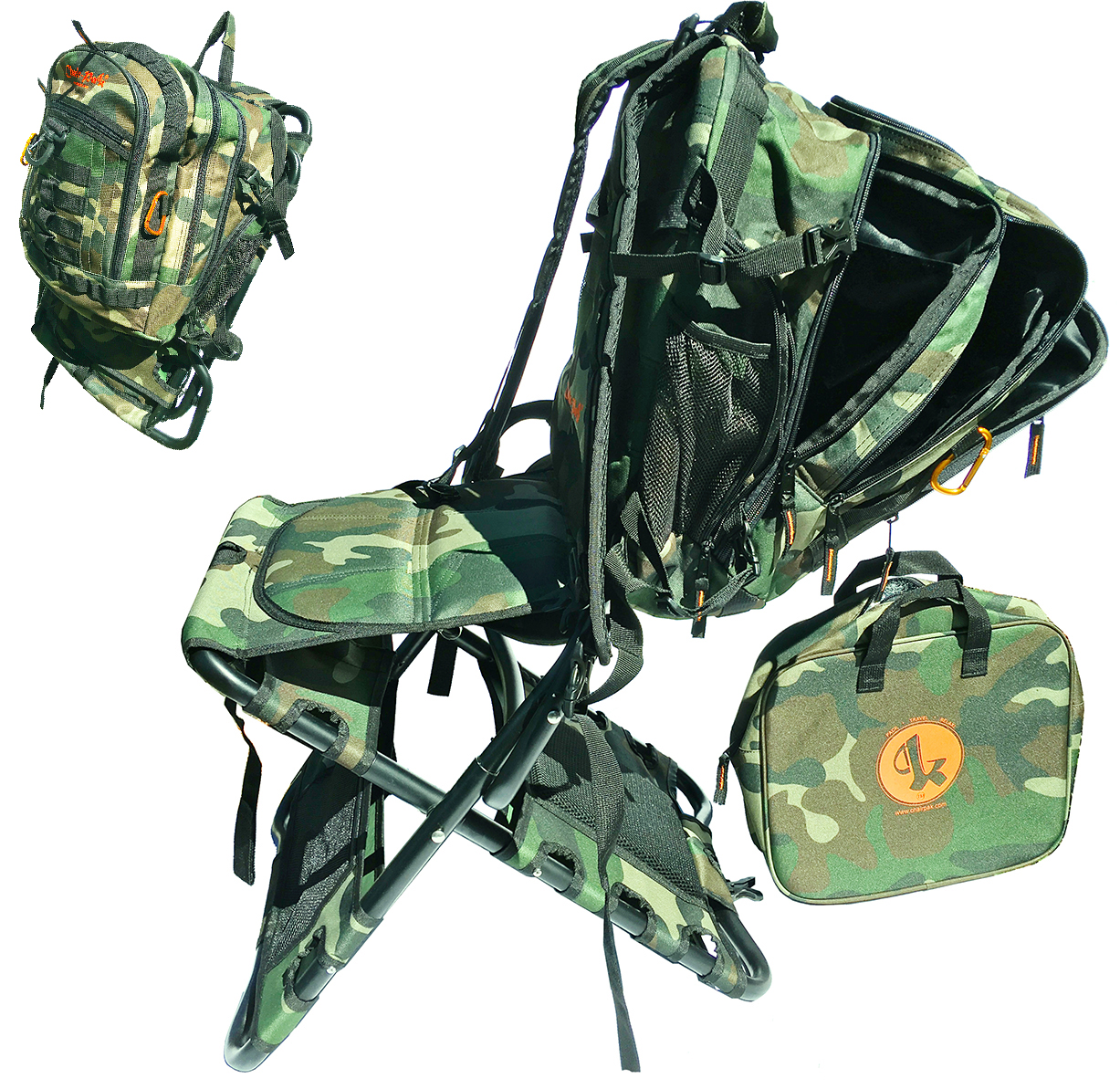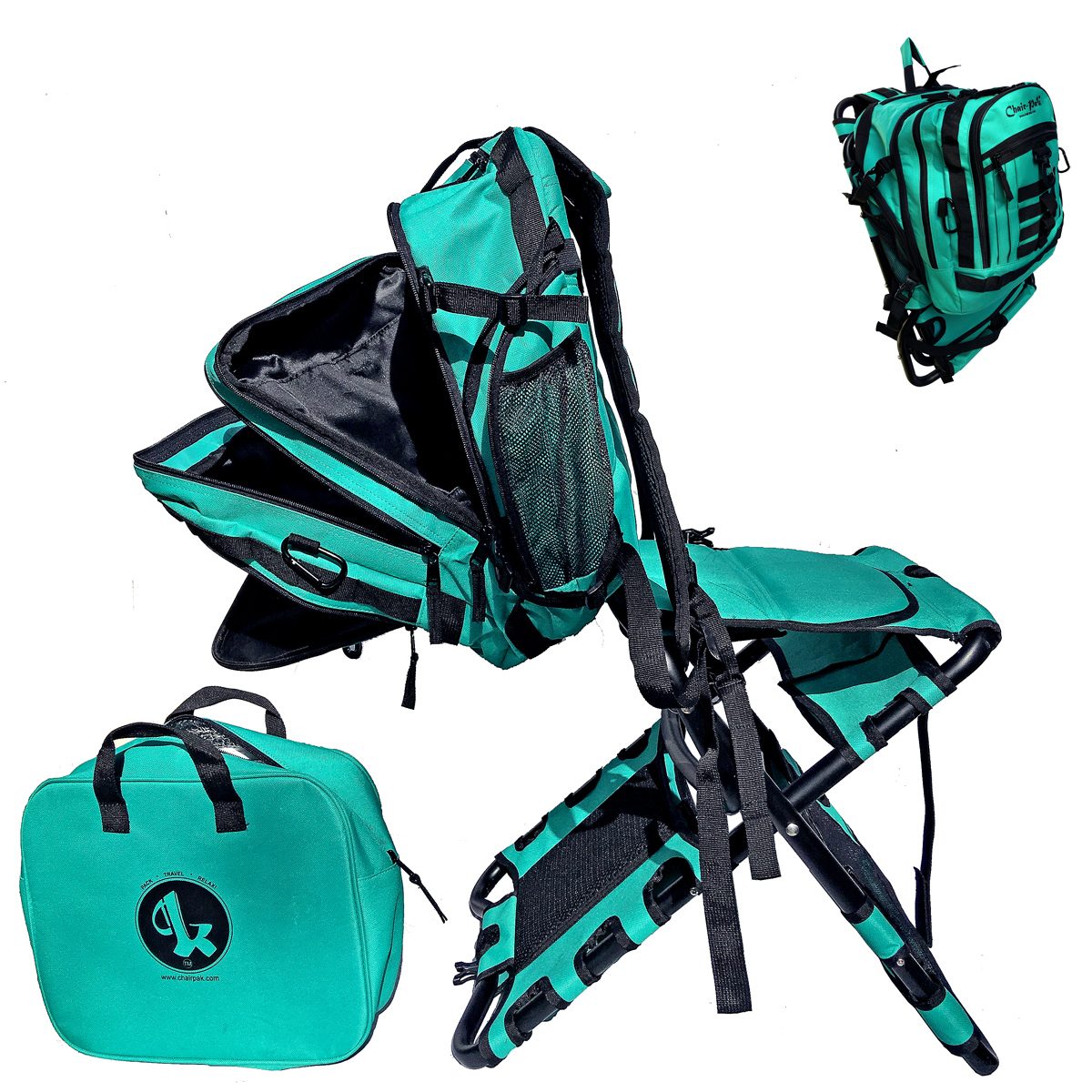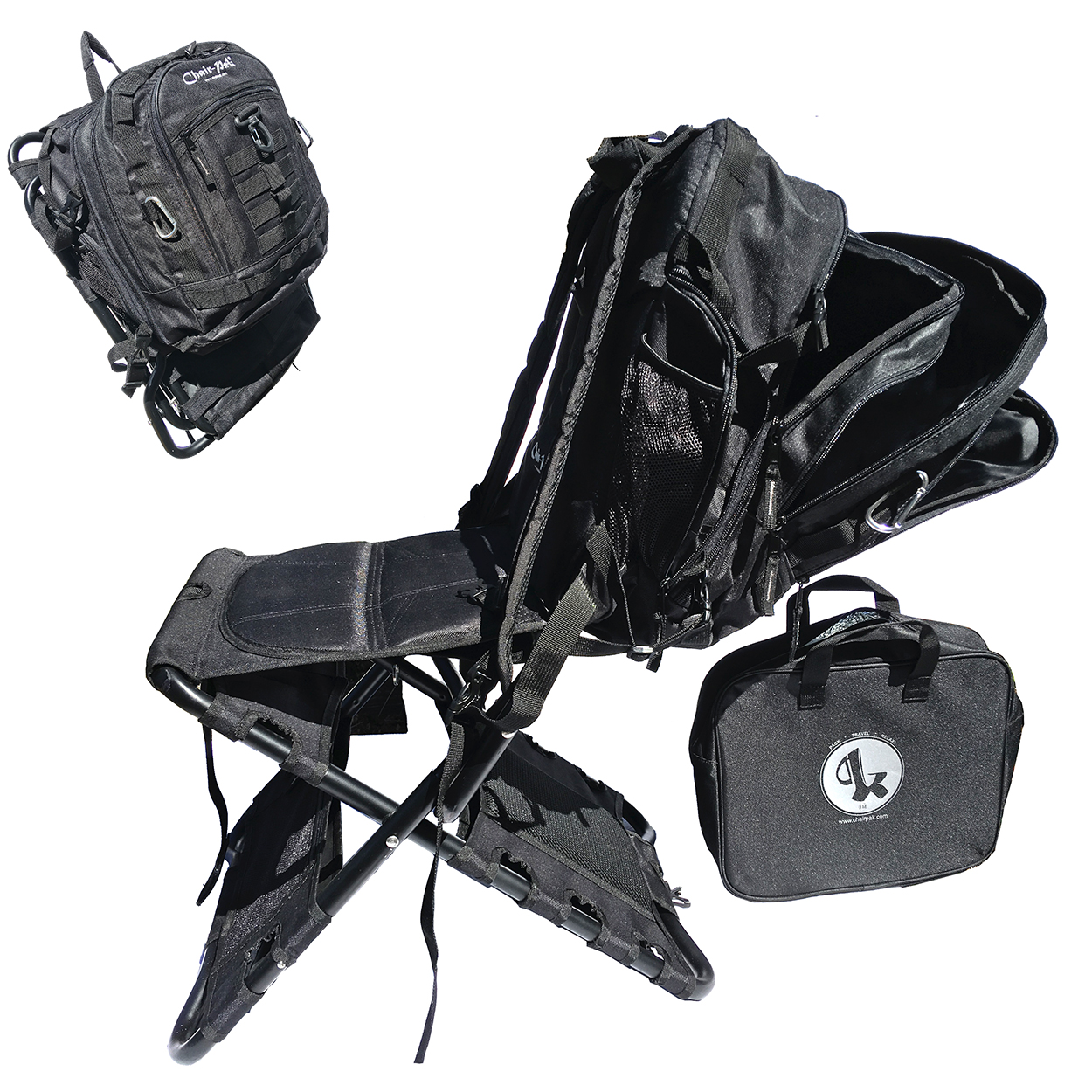 Chair-Pak + FPV Pak Insert
Worlds Best Drone Gear Pack Travel & Sit System
Chair-Pak combined with the NEW FPV Pak insert is absolutely PERFECT for transporting and flying drones FPV at the field. No longer do MultiGP pilots have to carry both a backpack AND a chair. Now you can just pick up one item consisting of both and go. With the addition of FPV Pak, quad pilots are now able to neatly fit, organize and protect all of their drone gear into the Chair-Pak (including radio, drone(s), batteries, goggles, cameras, cables, etc). The partitioned separators are fully customizable and movable to meet the needs of each individual pilot and their specific gear. It's comfortable to carry and sit in for long periods of fly time. You could easily mount a ground station onto it if you wanted to. All features and design elements have been thoroughly tried, tested and improved upon by real FPV drone pilots. The Chair-Pak combined with the FPV Pak insert will forever change how FPV/drone pilots are able to get to and operate at the field. Get yours today!
FPV Pak is designed to house, protect and easily mobilize FPV, MultiGP, mini DJI  drone gear, SLR Cameras, Wine Bottle & Glasses and more.
Note: For those traveling to races, Chair-Pak easily goes through security, fits into commercial jet overhead bins or large suit cases.
For those traveling to races, Chair-Pak easily goes through security, fits into typical commercial jet overhead bins or large suit cases.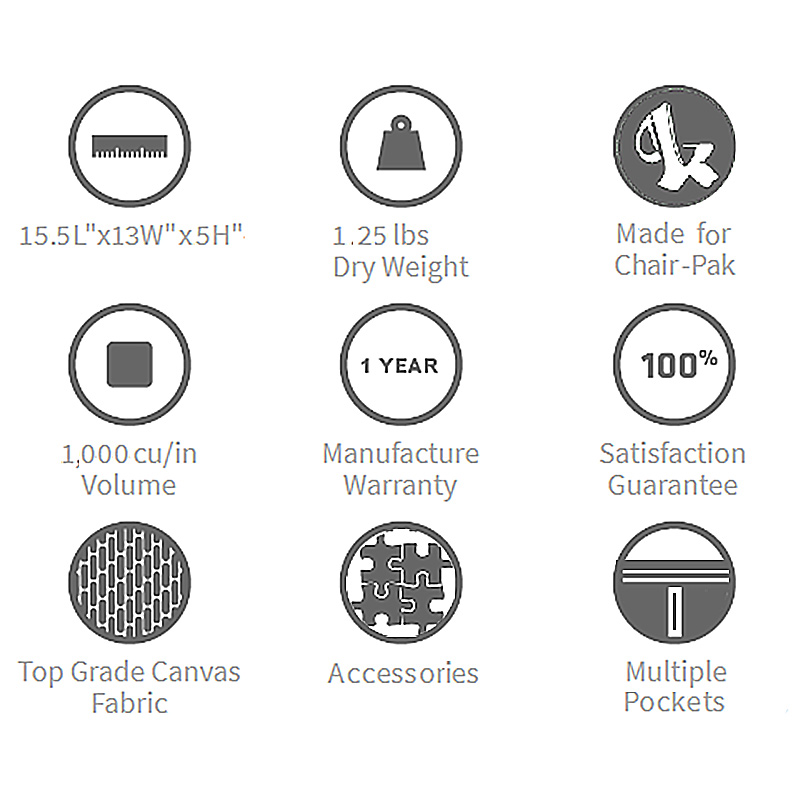 FPV Pak Overview
FPV Pak Review
Chair-Pak Overview
Hiking
Fishing

What Fits Inside:
Assembled 250MM or smaller FPV MultiGP drones with 6" or less tri-prop/bi-prop or large drone radio in place of drone
FPV HD Goggles
Extra batteries, props, cameras, cables, memory cards and other important gear
Features:
Fully integrates into Chair-Pak's main compartment
Rigid water resistant exterior canvas with Velcro attach material on lid
Zipper lid closure with top carrying handle
Soft padded Velcro attach interior walls and dividers configurable for any shape gear
Rigid shapeable interior support dividers to surround drone, radio or other sensitive gear to protect from crush impact
Pleated side and rear zipper pockets, back zipper net pocket and pouch
Interior lid net pockets
Interior bottom guidelines grid to help set dividers properly and symmetrically to protect gear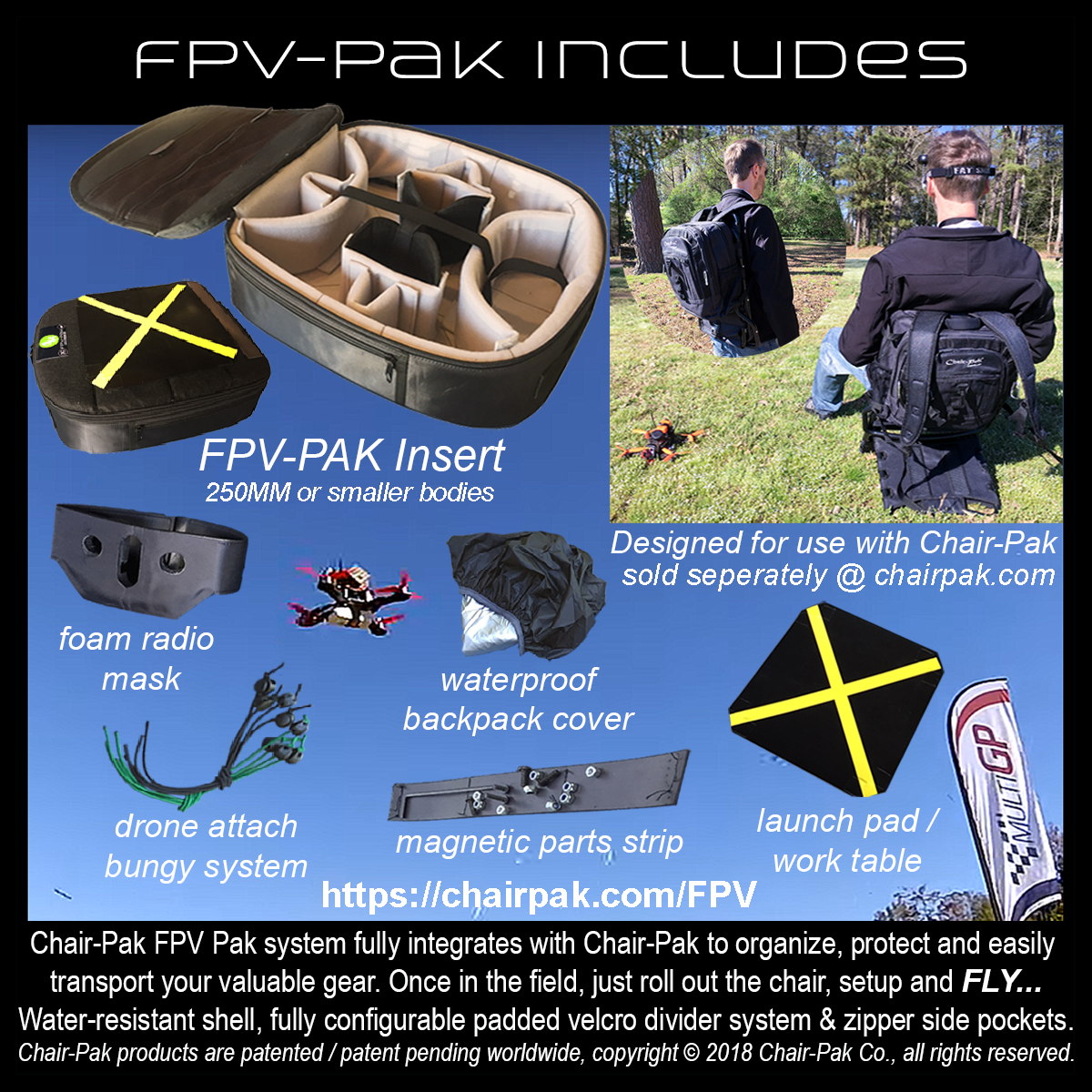 FPV Pak Insert

Midnight Blue

All Purpose Camo

Timeless Teal

Granite Black
30 Day Money Back Guarantee
This backpack & chair combo is the single most favorite thing that I own! Any of you that fly with me have never seen me without it. The chair is super-comfortable and can be adjusted from sitting straight up, to way down like a beach lounger, to anywhere in between. The pack itself can be infinitely configured internally to carry anything you want, any way you want to lay it out. There are loops all over the outside too so you can tie on anything else you like. If you fly, do yourself a favor and try one out. It is the ultimate Swiss Army knife tool for FPV. Everything you need, all in ONE spot and hands free wherever you go. It simply doesn't get any better than that. Races, events and trips to the field will never be the same. I promise you'll quickly wonder how you ever lived without it.
Anthony Bennett (TwansFPV)
Gallery