FPV Drone Pak
Be the first to rate this concept.
163 Followers Locked In To Be First To Purchase - Add Your Name To Join The VIP List, Limited Quantity!
Add your feedback now!
Production Updates
04/21/17 - Thank you very much for your continued patience followers, it is a lengthy process to take concepts/ideas and turn them into reality for consumer use. The latest samples look fantastic and work fantastic so the wait will be definitely worth it. The new Chair-Pak has new features, more volume and takes into acccount the great feedback and suggestions from you the FPV drone pros. It fits the new FPV Pak perfectly and will be a great addition to your FPV racing tool set. After some fine tuning we are off to production YAY!!!
12/31/16 - Hello Everyone HAPPY NEW YEAR! Thank you so much for your patience in receiving this production update. We finally received our first  sample back and we are putting it through our test and review procedures. So far it looks to be spot on with minor tweaks and corrections needed, (see the pictures link below). Once we have finished we will send our feedback to the manufacturer to fine tune for production. If everything goes as expected we should see product shipping Spring of 2017. Again thank you for your continued patience and interest in Chair-Pak FPV Pak add-on, we will have more updates coming shortly, so please check back. Any comments or suggestions contact me directly les@chairpak.com.
9/29/16 - Stay tuned for upcoming production updates. Due to the nature of production (patents, patterns, molds, sample proofs, production, assembly, packaging, freight to warehouse, QC, inventory) then shipments to you the customer. We hope to have the product available in 3 months but it is possible that it could take 6 or more. We want them done as soon as possible and will do everything that we possibly can to get them in your hands. Thank you for your patience and please keep checking back.
Chair-Pak's FPV Drone Pak
If you haven't already heard about FPV (or "first person view") drone racing you soon will. Drone hobbyists around the globe are rapidly increasing in number and have recently begun holding competitions for this exciting hobby. In fact, ESPN has just picked it up so it will soon be seen on TV and in households everywhere.
These pilots travel to many exotic places outdoors, sometimes hiking in for miles, with quadcopters strapped to their backs that can fly 70+ MPH. The drones have tiny cameras that stream a wireless video feed down to the goggles in real-time. With these goggles strapped to their heads, they buzz the terrain, flying for endless miles taking in the weightless freedom like a bird. It actually feels like you are up in the drone flying since you are seeing everything from its perspective.
Chair-Pak is a great solution for this hobby since you often need to transport a lot of expensive gear and then sit down for hours to experience the joy of FPV flying. Sitting is preferred because your eyes and equilibrium become attached to the drone more so than to your body. Even if you're only sitting a few feet from your car, the chair is comfortable and you can transport everything consolidated all in one place. No more getting to an event or the field only to discover that you forgot something you needed.
The FPV Drone Pak insert is the perfect addition to Chair-Pak for RC enthusiasts. Now you can easily pack, carry, protect and even repair your expensive gear wherever you are in the field. It is a carefully thought out felt/velcro insert system which slips into Chair-Pak's main compartment. It has hard outer walls with cushioned adjustable inner walls allowing for any configuration. The foam dividers hug the goggles, batteries, antennas and other necessary gear for the journey. There are two centered ridged support walls which surround the drone and keep both it and your gear protected from ever getting crushed. The FPV Drone Pak also comes with a foam radio wrap to protect your radio and its sticks which fits into the designated outer zipper pocket of Chair-Pak. For the more hardcore flyers the add-on even comes with a cross strapping system to easily mount a second backup drone externally to the outside of Chair-Pak.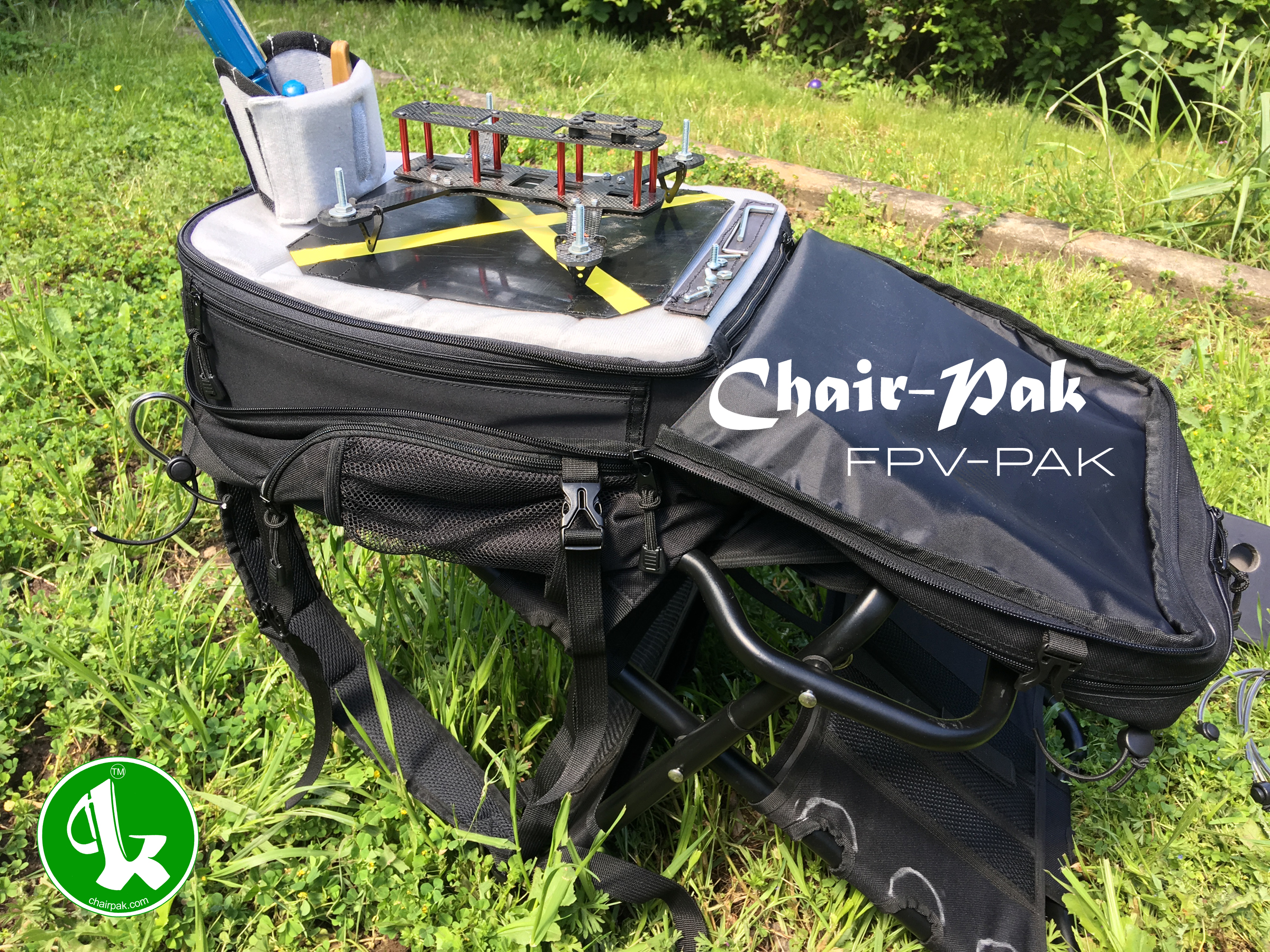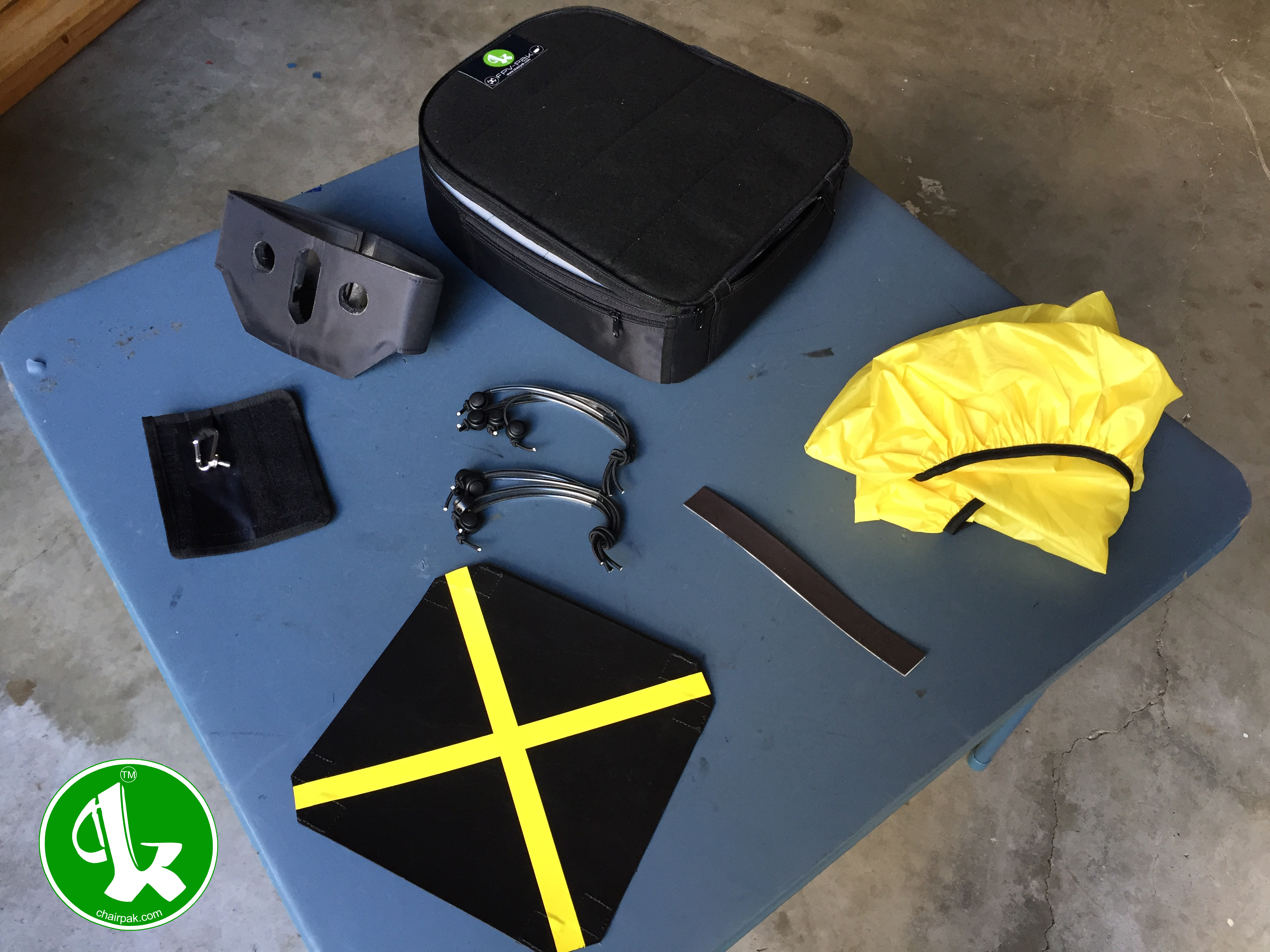 Chair-Pak FPV Pak Includes:
FPV Pak insert designed to organize and protect your racing drone gear in a  soft interior, hard exterior Chair-Pak insert case.

Zip closure with top carrying handle, interior padding to protect fragile gear, fully configurable interior dividers with Velcro attachments, lined with felt interior and exterior for optimum Velcro attach points, durable nylon exterior.

What Fits Inside:
-Assembled 250MM or smaller drones with 6" or less tri-prop or regular propeller configuration
- Extra batteries, cameras, cables, memory cards and other various accessories
- FPV Goggles
- Extra propellers

Attachable mini work table/launch pad
- Textured grid surface to easily work on your drone anywhere including non-flat surfaces.
Attachable magnetic strip to easily stick your small tools, screws, nuts and other hardware to as you make repairs to your drone
- Mounts to either the front of the Pak or on the inside of the Pak
- It can even double as a takeoff mat in tall grass.
Foam radio wrap to protect your radio and its sticks on the journey.

Two external cross strapping system to easily mount a second and third backup drones to the backpack of Chair-Pak.

Waterproof backpack cover to protect your gear in wet weather.

Weight: 0.5 lbs

Color: Black & Gray

Dimensions: 13" L x 5" W x 16" H
Anticipated MSRP TBD
Chair-Pak FPV Pak is patent and trademark pending worldwide
That Josh Guy - Chair-Pak FPV Drone Pack Preview Video
A chance to win a Chair-Pak and FPV Pak - WVRS Drone Group: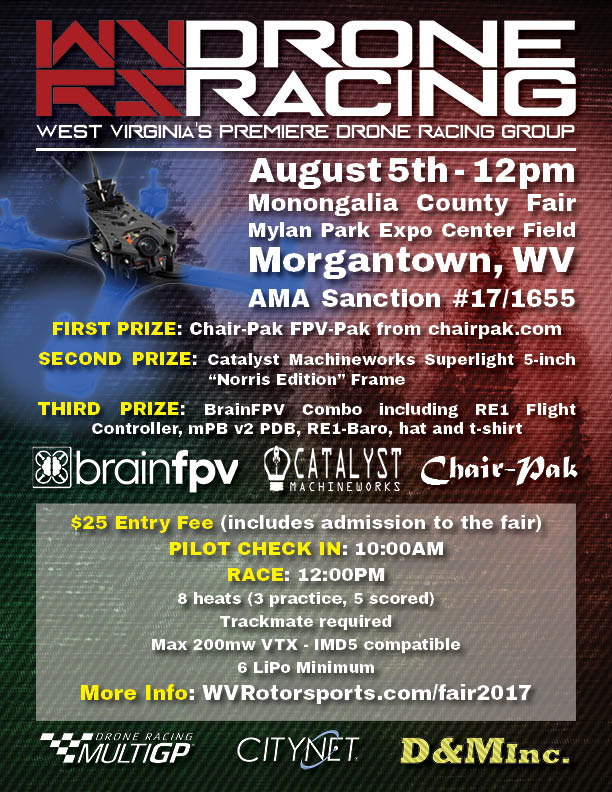 Chair-Pak is sponsoring the first large-scale MultiGP FPV Drone Race at the Monongalia County Fair in WV on Saturday, August 5th. This event has been sanctioned by the Adademy of Model Aeronautics, sanction number #17/1655. Limited, Sign up below.
Come Along - Quadcopter Freestyle FPV - Latest Video Log from Chair-Pak Partner TwansFPV
Check out the AMA Model Aviation Magazine Chair-Pak Review - November Issue 2016: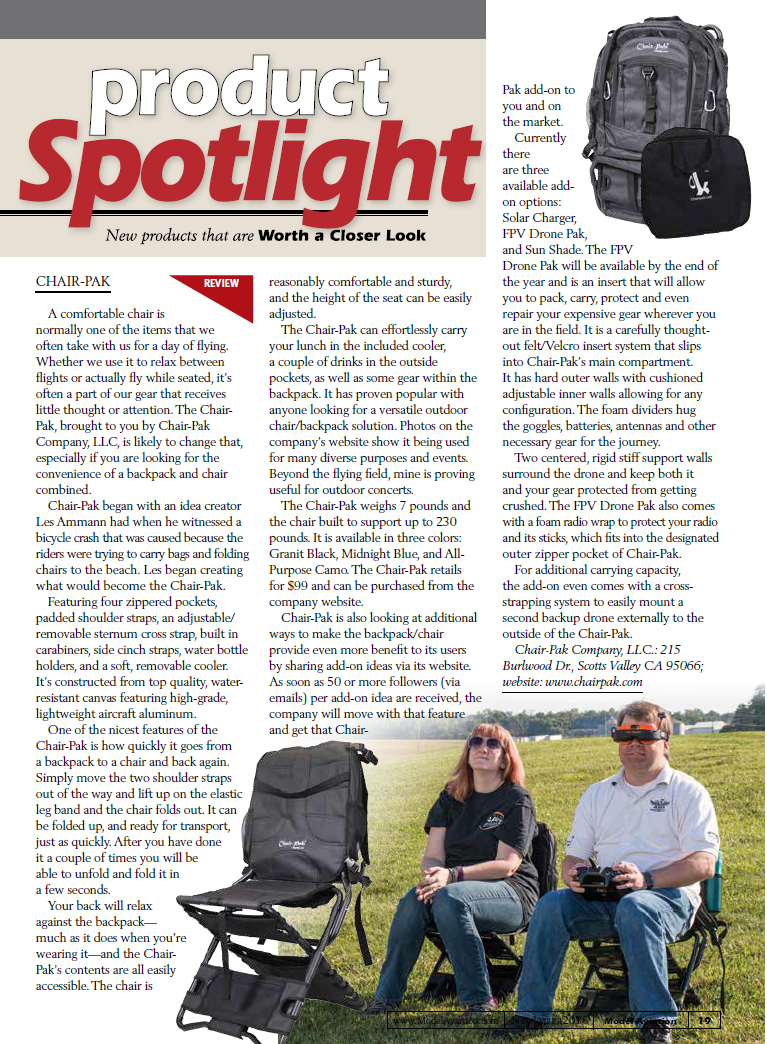 Here are comments from Anthony at TwansFPV who is a FPV drone racing/freestyle pilot and who has been kind enough to test our prototypes to provide valuable feedback:
"The Chairpak combined with the new FPV Drone Add-On is absolutely PERFECT for transporting and flying drones FPV at the field. No longer do FPV pilots have to carry both a backpack AND a chair. Now they can just pick up one item consisting of both and go. With the addition of the new FPV Drone Add-On, pilots are now able to neatly fit and organize all of their drone gear into the Chair-Pak (including drone(s), batteries, goggles, cameras, cables, etc). The partitioned separators are customizable and movable to meet the needs of each individual pilot and their specific gear. It's comfortable to carry and it's comfortable to sit in for long periods of time. You could even mount a ground station onto it if you wanted to. All features and design elements have been thoroughly tried, tested and improved upon by real FPV pilots. The Chairpak combined with the FPV Drone Add-On will forever change how FPV pilots are able to operate at the field."
You can check out FPV in person on Anthony's Youtube page TwansFPV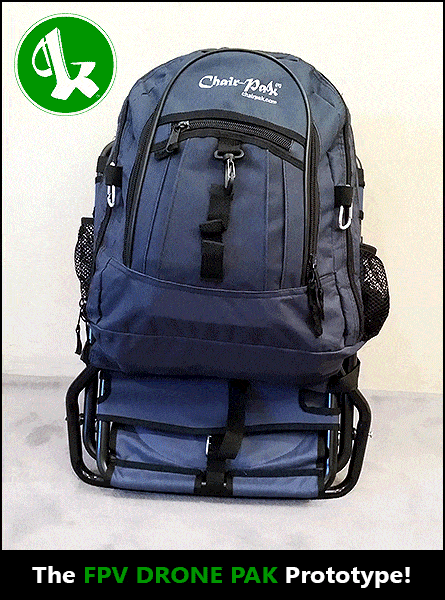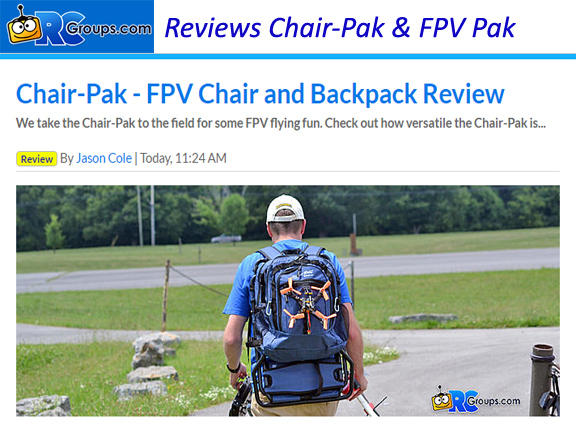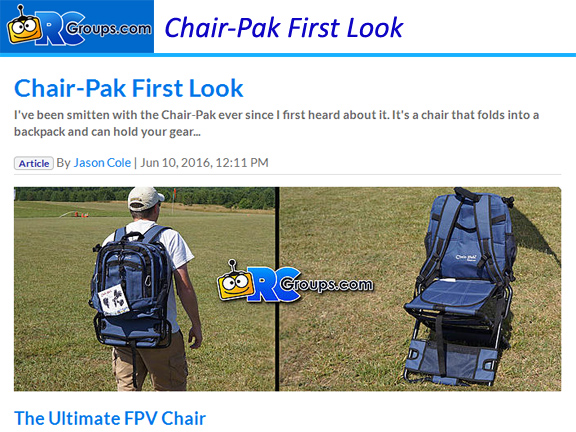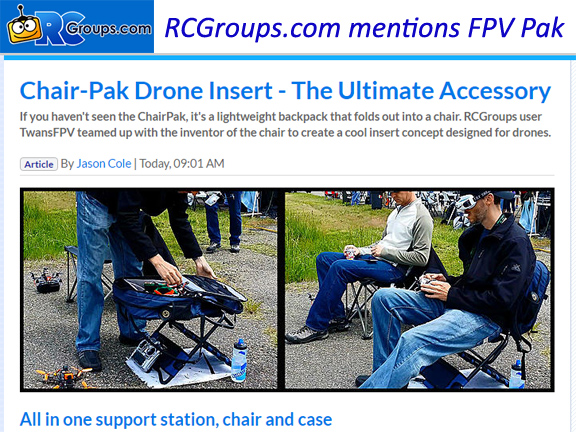 FPV Pak First Prototype:

Please Note:
If you would like to get a Chair-Pak TODAY no problem, it is great for anything outdoors, FPV, camping, fishing, etc please visit Our Store & place your order. Thank you.
The FPV Drone Pak concept when we do hit our 50 follower goal and available will fit in the main compartment of your purchased Chair-Pak, and the radio in the outer compartment as shown, no problem. That being said, we are working to make minor tweaks to the backpack specifically for you the FPV Drone enthusiast for release at the time of FPV Pak. Those who do purchase Chair-Pak TODAY, and then the FPV Pak when released will also receive our upgraded Chair-Pak backpack to replace today's version for FREE. It will easily snap onto the backpack backrest frame and off you go. Just make sure you have submitted your email on this page. Any questions please send me an email at les@chairpak.com or submit a comment. Thank you again for your participation & business.

Feature Feedback
Subscribe to this Chair-Pak add-on with your email below to get updates and to confirm you want to see this idea become a reality. We are looking for 50+ followers (emails) to move forward with this feature. Once we achieve this pinnacle we will finish the work needed to get it to you and on the market. You will be the first to know when the add-on is available for purchase. Thank you for your participation.
---