Solar Charger add-on
25 Followers Have Provided Positive Feedback - Add Yours To Help Us Reach Our Goal Of 50.
Add your feedback now!
The Chair-Pak Solar Charger concept enhances the user outdoor experience by easily attaching a lightweight compact high powered solar panel system complete with battery bank for storing up to 4 hours of charge. It's current configuration is able to charge up to 2 of your favorite devices at a single time anywhere you are outdoors. Charging my iPhone in full or near full direct sunlight takes about the same time as if you are charging from a wall outlet based on our tests around 1.5 hours (single device at a time plugged into the (blue) 2.1 AMP USB connection).
Good to have with you at all times and ideal for long treks and overnight camping trips when GPS mapping is a must or other high tech devices such as a camera needs a charge. This add-on is also perfect for the FPV drone hobbyist needing to keep batteries charged out in the field at all times to keep flying, and many other uses.
If you like this product addition to the Chair-Pak lineup, please take a moment and give us your star rating and feedback using the form below. When you vote this is valuable feedback to help us continue to invest our product development resources to ensure we are providing you the best product possible.
Thanks -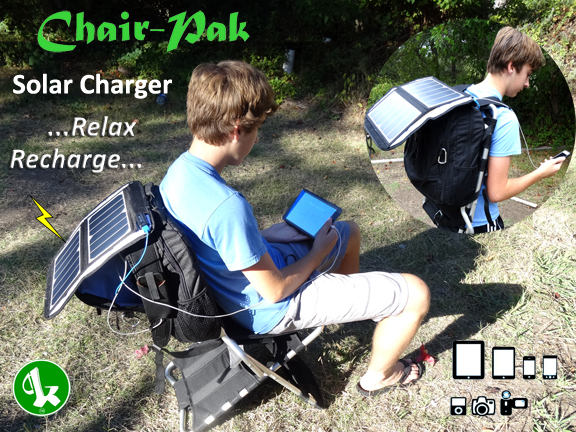 Star-Charge Includes:
Easily attach Solar System to Chair-Pak and store until needed then flip open to charge.
High Efficiency 14W Foldable Solar Panel Portable Solar Charger for iPhones, iPads, Samsung Galaxy Phones, other Smartphones and Tablets, Cameras and more.
Solar Panels attach to top of backpack via Velcro which can easily be flipped open to hang over top of pack for absorbing sunlight. System can be easily removed from Chair-Pak to charge in other places if sunlight is not where you are sitting in Chair-Pak.
Quick charging 10000mAh Dual USB portable rechargeable battery bank aluminum body design for iPhone 6 Plus, iPhone 5S 5C 5 4S, Galaxy S5 S4 S3, Note 4 3, HTC One M8, Nexus 5, LG G3, other Smartphones and Tablets (Apple Adapters Not Included) – Silver
Battery bank is integrated into Chair-Pak with holding pocket.
Comes with smart phone pocket which attaches to the shoulder strap for quick access.
Anticipated MSRP $89 - $99 (actual MSRP TBD)
Chair-Pak Solar Charger is patent and trademark pending worldwide
Please Note:
If you would like to get a Chair-Pak TODAY no problem, it is great for anything outdoors FPV, camping, fishing, etc please visit Our Store & place your order. Thank you.
The Chair-Pak Solar Charger concept when we do hit our 50 follower goal and available, with your Solar Charger purchase will also receive our upgraded Chair-Pak backpack to replace today's version for FREE. It will easily snap onto the backpack backrest frame and off you go and your new Chair-Pak Solar Charger will easily connect to the Velcro strips on top of the new backpack provided. Just make sure you have submitted your email on this page. Any questions please send me an email at les@chairpak.com or submit a comment. Thank you again for your participation & business.
Feature Feedback
Subscribe to this Chair-Pak add-on with your email below to get updates and to confirm you want to see this idea become a reality. We are looking for 50+ followers (emails) to move forward with this feature. Once we achieve this pinnacle we will finish the work needed to get it to you and on the market. You will be the first to know when the add-on is available for purchase. Thank you for your participation.
---