Sun Shade add-on
Be the first to rate this concept.
73 Followers Locked In To Be First To Purchase - Add Your Name To Join The VIP List, Limited Quantity!
Add your feedback now!
Chair-Pak Sun Shade concept
Sitting to watch a ball game or enjoying the sunny beach is great fun but the sun can have a major impact on your enjoyment if too hot or glaring. The Sun Shade concept is really not a new one but this particular concept integrates smoothly with the compact lightweight on the go mentality Chair-Pak customers have grown to appreciate.
The operation is simple, take the 12" diameter Sun Shade out of your Chair-Pak, hold the base and shake it a little and the large 34" x 48" Sun Shade pops out instantly into a nice sturdy adjustable awning. Slip the base into the Shade slit pocket in the top of the backpack, sit and relax for hours. Easily keep the sun rays and even rain off your body as you enjoy the scenery and the game.
To store simply hold the two long ends of the shade with both hands, twist opposite directions 180 degrees with your wrists and it collapses again to a 12" diameter circle to store in your Chair-Pak.  Its that simple and effective.
If you like this product addition to the Chair-Pak lineup, please take a moment and give us your feedback using the form below. When you vote this is valuable feedback to help us continue to invest our product development resources to ensure we are providing you the best product possible.
Thanks -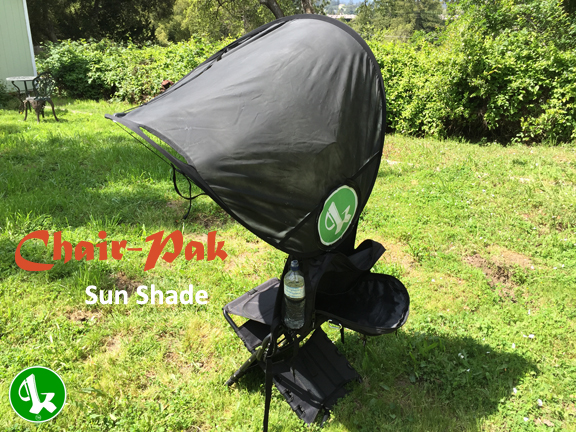 Sun Shade Includes:
The Sun Shade system

Instant awning made of water resistant lightweight material
Swivel connection base flange
Adjustable strapping on each side allows lengthening or shortening of the awnings front area for more or less shade
Slit pocket in backpack to connect shade base flange
Slit pocket has a strap and Velcro system to raise or lower height of the shade by as much as 6"

Stow away pocket
Swivel the awning by 45 degrees in both left and right directions while sitting in Chair-Pak to follow the sun.
Anticipated MSRP $34 - $39 (Actual MSRP TBD)
Chair-Pak Sun Shade is patent and trademark pending worldwide
Please Note:
If you would like to get a Chair-Pak TODAY no problem, it is great for anything outdoors FPV, camping, fishing, etc please visit Our Store & place your order. Thank you.
The Chair-Pak Sun Shade concept when we do hit our 50 follower goal and available, with your Sun Shade purchase will also receive our upgraded Chair-Pak backpack to replace today's version for FREE. It will easily snap onto the backpack backrest frame and off you go and your new Chair-Pak Sun Shade will easily connect to the slit pocket on top of the new backpack provided. Just make sure you have submitted your email on this page. Any questions please send me an email at les@chairpak.com or submit a comment. Thank you again for your participation & business.
Feature Feedback
Subscribe to this Chair-Pak add-on with your email below to get updates and to confirm you want to see this idea become a reality. We are looking for 50+ followers (emails) to move forward with this feature. Once we achieve this pinnacle we will finish the work needed to get it to you and on the market. You will be the first to know when the add-on is available for purchase. Thank you for your participation.
---