Perfect Fishing Chair
Fishing is one of the worlds favorite hobbies. It's a past-time that requires only basic skills and some outdoor equipment to enjoy, but can be equally enjoyed my your most experience and well equipped anglers. For fishing, chairs make this activity comfortable and considered a necessity! In addition to a fishing rod and reel, another critical success factor is a good tackle box.
Now what if you could combine a spacious tackle box, with a portable chair? What if you had a cooler with your portable fishing chair to hold your favorite beverage? What if you could carry all this in a backpack?
This is exactly what Chair-Pak's fishing chair has done! The fishing chair and backpack (Chair-Pak) holds all of your tackle and provides mobility to find the perfect fishing hole.
Chair-Pak offers mobility to get to the lake, and move around until you find the perfect fishing hole. Store your tackle and other fishing gear; bring your lunch and accessories to thoroughly enjoy the fishing experience.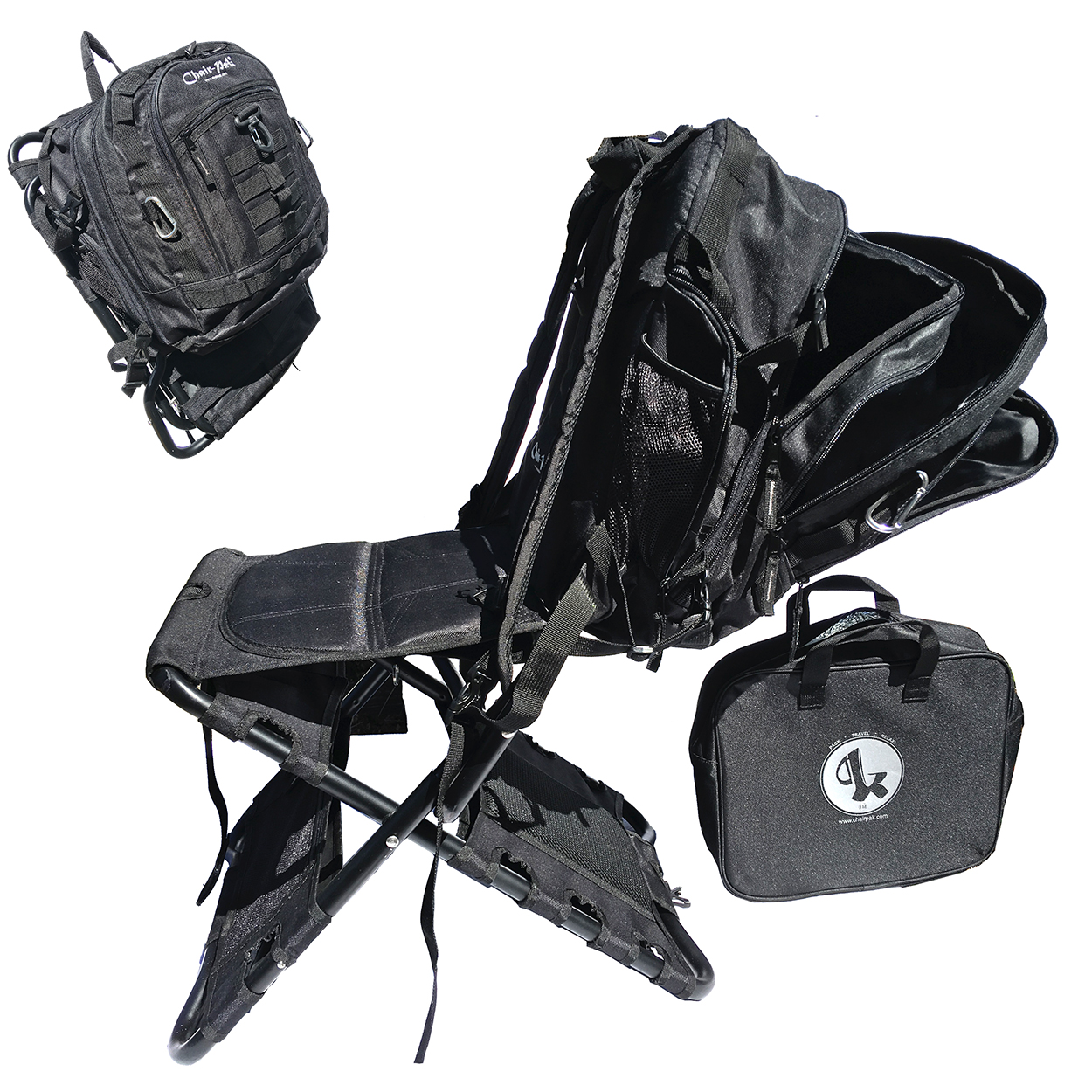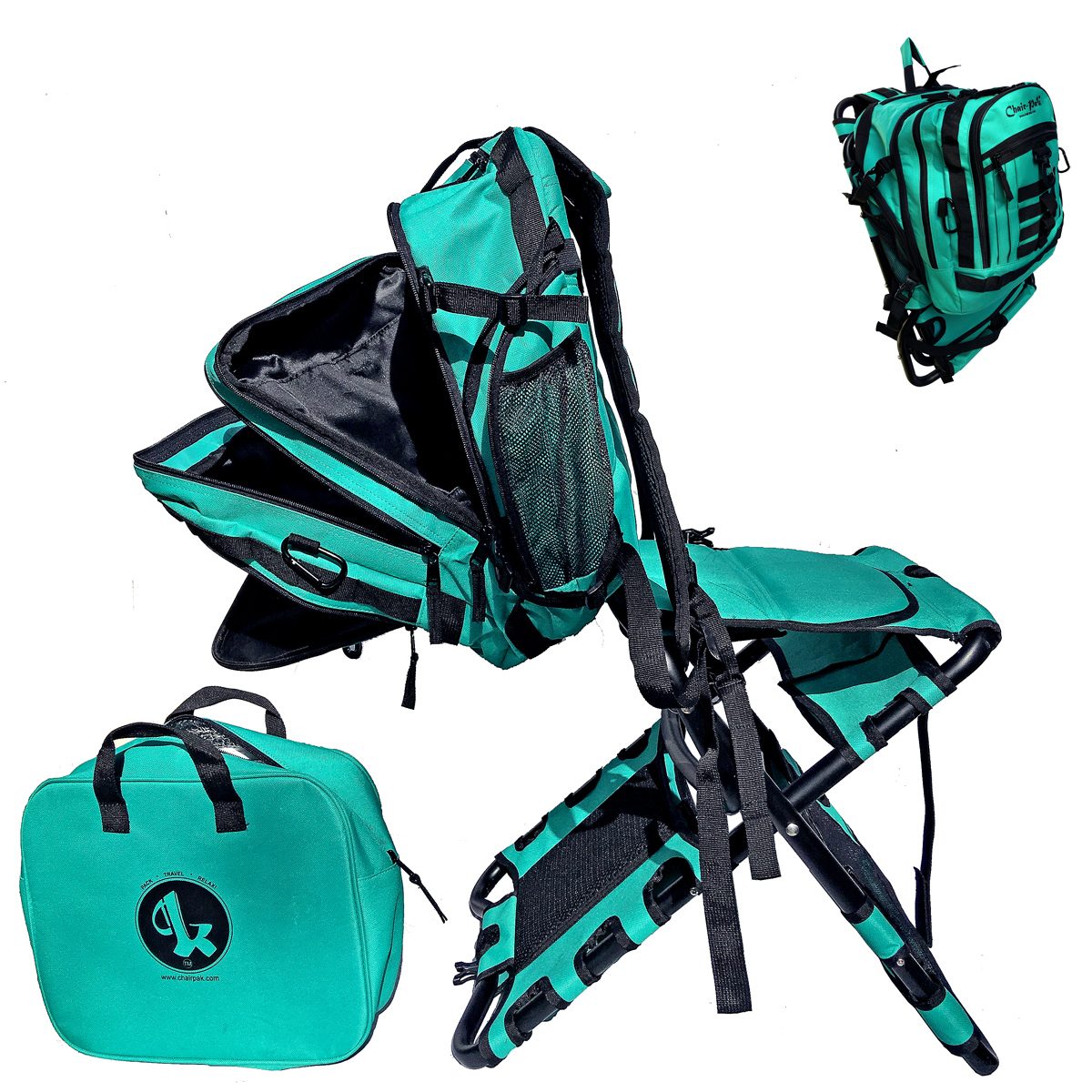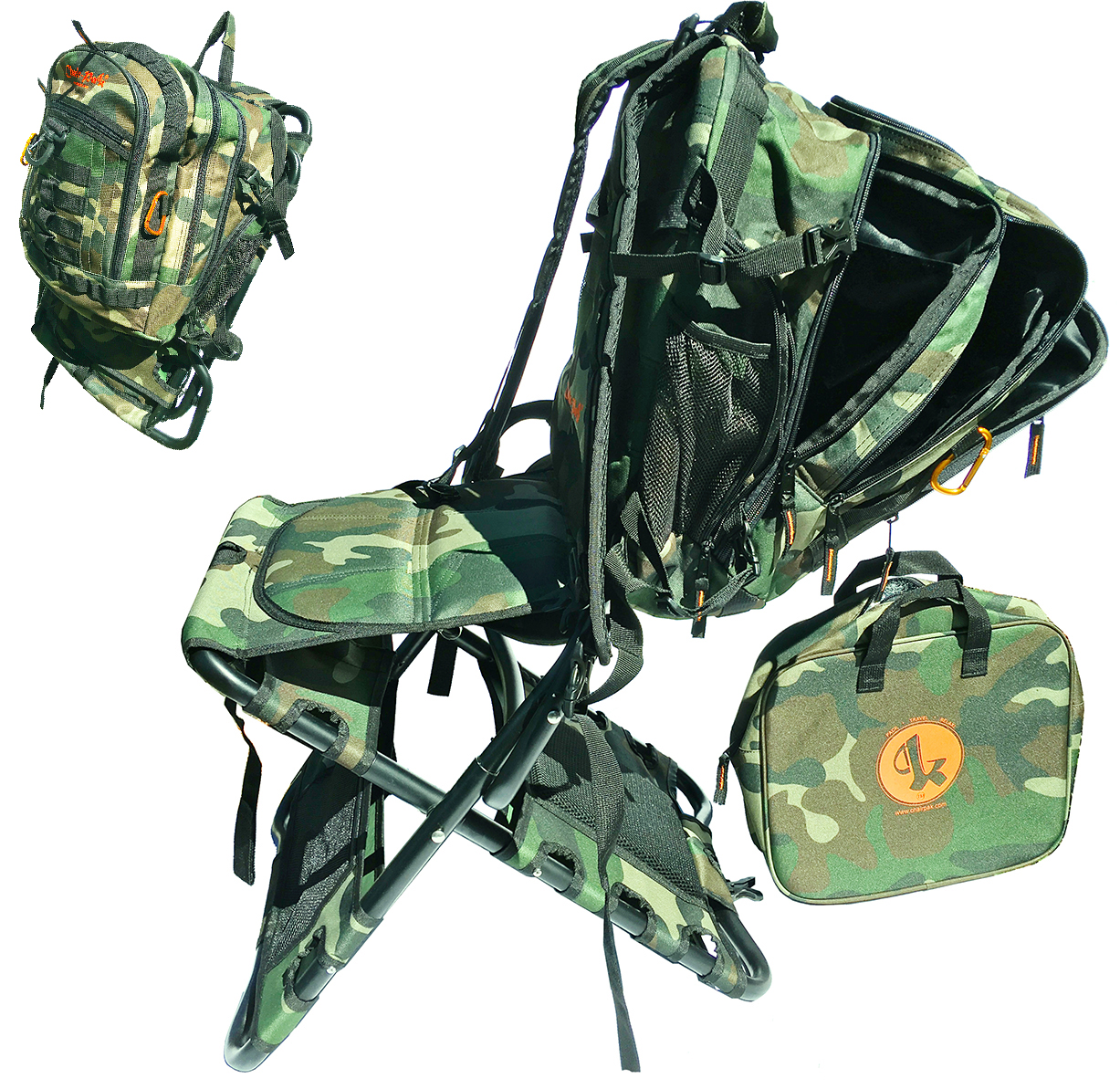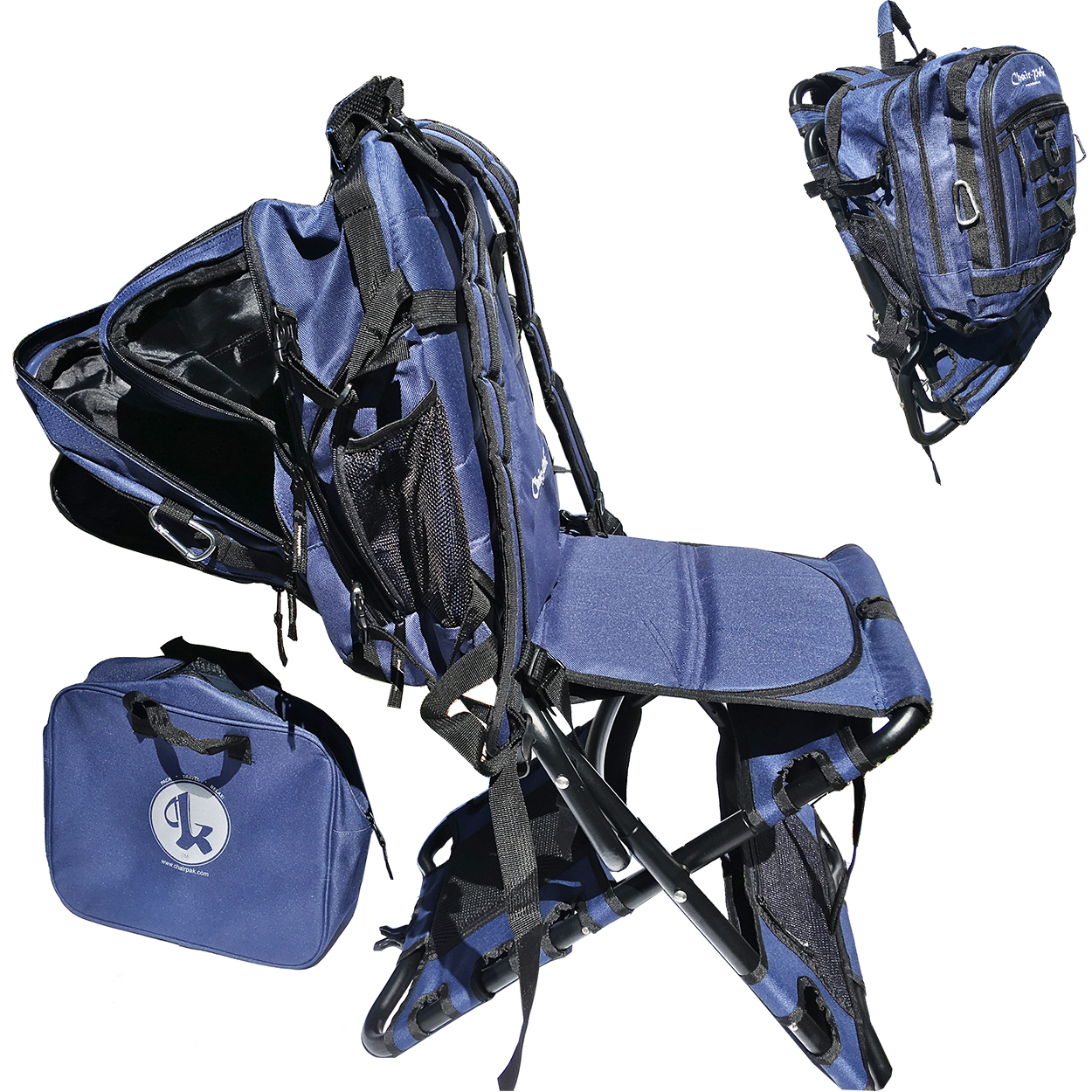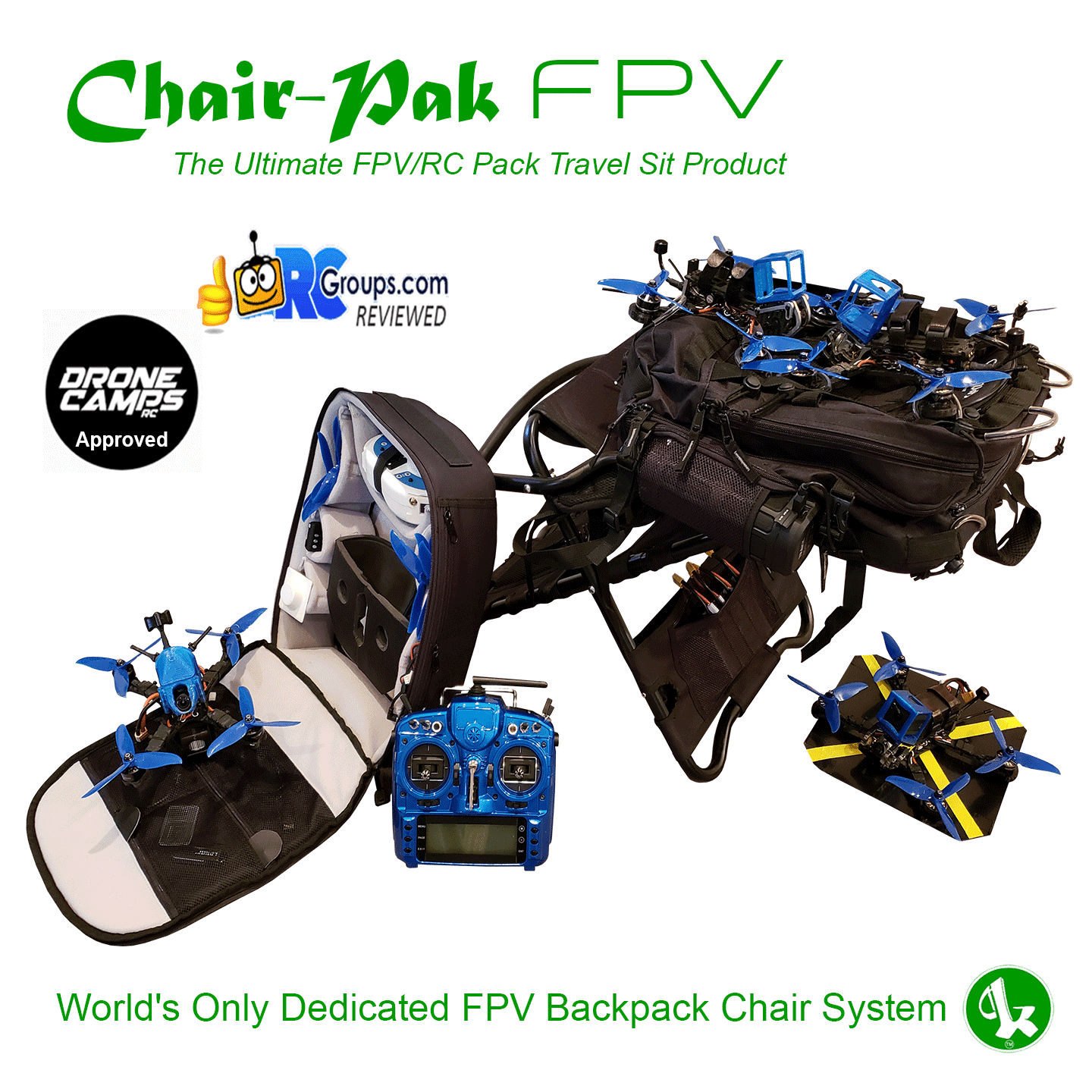 Chair-Pak
The World's Best Backpack/Camping Chair
Chair-Pak goes way beyond the competition by integrating a fully loaded, feature rich backpack & comfortable lightweight chair. It is designed to be the perfect size & weight for mobility and comfort, about the size of your back and height of a regular chair. No other backpack chair on the market comes close, see our testimonials & search the web, you will be completely satisfied.
Chair-Pak is essential gear for the outdoor enthusiast. Designed to help you get into the field and stay out in the field in comfort. Combining the convenience of a full sized multi-compartment backpack with the comfort of a integrated lightweight chair, you will never leave home without it. Featuring four zipper compartments, padded shoulder straps, adjustable/removable sternum cross strap, carabiners, side cinch straps, water bottle holders  & pockets, and removable soft cooler . Constructed of top quality, water resistant canvas featuring high grade, lightweight strong aircraft aluminum.
Note: For those who fly Chair-Pak easily goes through security, fits into typical airline overhead bins or inside large suit cases.
Chair-Pak is your flagship outdoor gear. We Ship Worldwide!
22L"x17W"-Pack

13W"x17H"-Chair
Lightweight Aircraft

Aluminum Frame

Multiple

Attachment Points
Chair-Pak Overview
Hiking
Fishing
Hunting
At The Beach
FPV Pak Insert
3 large main compartments with internal storage pockets and large back pocket
Two side water bottle holders
Carabiners & loops provide ability to bungee articles and gear
Zipper leg pocket for additional item storage
Long lasting thermal soft cooler
Side cinch straps to attach longer items like an umbrella or fishing pole
Water resistant canvas materials
Adjustable, removable sternum cross strap
Granite Black

Timeless Teal

All Purpose Camo

Midnight Blue

Chair-Pak FPV
30 Day Money Back Guarantee
Chair-Pak fits my needs perfectly for fishing, there is plenty of room. Order arrived earlier than expected. At some fishing holes here in Southern California, sometimes you need to rush your gear to get to the good spot. Chair-Pak saves me from having to carry a chair, cooler, tackle, net. One trip from car to spot, Chairpak on back and rods in hand.

Ruben, San Bernadino CA

WOW! This has got to be the most convenient backpack chair for fishing ever! I do alot of stop and go on the lake that I fish at. This product is perfect for it! I just drop the chair, fish a little and then move on. The backpack portion was not big enough to fit my very large tackle box..so what i did was buy 2 of the flat clear boxs and I put all my stuff in there and now its perfect! I also fit in my plyers, glasses, bug spray everything! My friends are all going to be buying them asap!

- Lance, New Jersey